Downing Street has attempted to play down an incident in which Prime Minister David Cameron left his eight-year-old daughter in a pub, telling reporters on Monday: "These things happen."
Cameron and wife Samantha returned to the PM's country residence Chequers from the Plough Inn in nearby Cadsden, Buckinghamshire, in different vehicles, each believing that daughter Nancy, 8, was with the other, said a spokeswoman.
They were "distraught" to find she had been left behind, but quickly phoned the pub to discover she was safe and well.
There was some confusion about the incident, which happened around two months ago, after Number 10 initially said that the Camerons had been enjoying Sunday lunch at the Plough, and that Mr Cameron had personally returned to the pub to pick up his daughter.
A spokeswoman later clarified that the Camerons had been having a lunchtime drink with friends, and that it was Samantha who went back to get Nancy. The spokeswoman declined to say whether the PM was drinking alcohol.
The Camerons were at the Plough Inn with Nancy and their other children Arthur, six, and 22-month-old Florence, as well as two other families. The Camerons' mistake was only discovered when the couple got home
Nancy is said to have wandered off to the toilets as the Camerons and their friends were leaving and getting into cars.
When Cameron left the pub he went home in one car with his bodyguards and thought Nancy was with his wife and their other children in another car.
Mrs Cameron had assumed her eldest daughter was with her father and the mistake was only discovered when they got home.
Samantha drove back to the pub and found Nancy helping staff. She was away from her parents for about 15 minutes.
"The Prime Minister and Samantha were distraught when they realised Nancy wasn't with them," said the spokeswoman.
"Thankfully, when they phoned the pub she was there safe and well."
The spokeswoman said the Camerons take full responsibility for looking after their children and were not blaming security officers for failing to ensure that Nancy was with the party before returning to Chequers.
"They are their children and they take responsibility for them," said the spokeswoman.
"No-one is going to face disciplinary action. This was an error."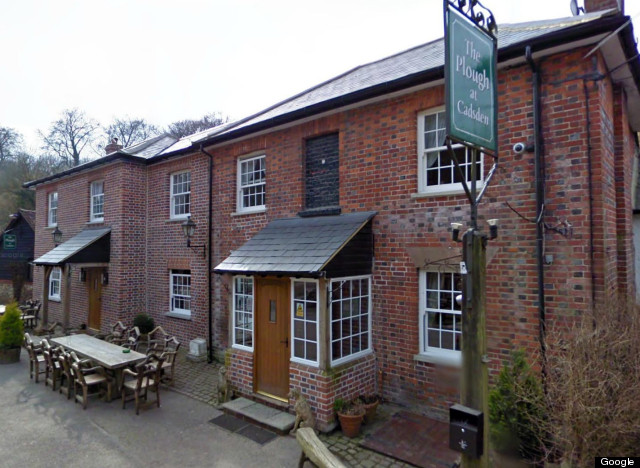 The Plough Inn, where Nancy was left, close to the PM's country residence
She added: "He had gone with friends at lunchtime, with a number of families with children, and they left in various different vehicles.
"As you know, the Prime Minister is a very busy man but he always tries to live as normal a life as possible with his family."
Asked how often this involved a visit to the pub, she replied: "Occasionally."
The spokeswoman declined to discuss the security arrangements around Mr Cameron and his family but said they were always kept under review.
SEE ALSO