Severe weather warnings have been issued across England and Wales after heavy rain was predicted throughout the UK.
The warnings come after firefighters dealt with flooding in two areas of York and delivered sandbags after more heavy rain in the area.
Other developments across the UK:
An 18-year-old man who died after crashing his motorcycle in heavy rain and high winds in West Sussex, on Friday has been named by Sussex Police as Gary Attwater
A man had to be rescued by firefighters after his car became stuck in a deep water in a ford in Hampshire and started taking in water running off from nearby fields
Emergency cases at Worthing Hospital in West Sussex were diverted to neighbouring Brighton and Chichester for several hours overnight because of flooding
In West Sussex, the fire service urged people to only call 999 in a "real emergency" as officials said their control room was dealing with "very high levels" of calls
Some homeowners in Sussex have complained about motorists speeding through flood-water and causing damage to their properties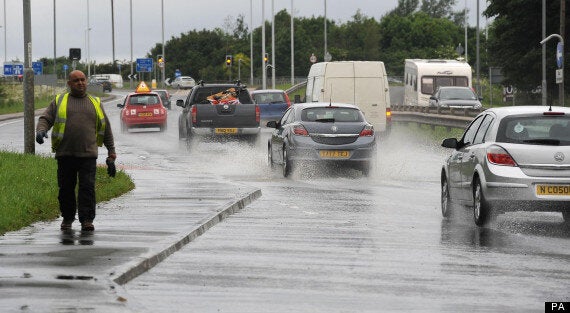 Earlier on Monday hundreds of residents and holidaymakers returned to their homes and caravans in Wales after villages in the county of Ceredigion were flooded by up to 5ft (1.5m) of water.
Some 150 people were rescued and evacuated from homes and caravan parks near Aberystwyth on Saturday after twice as much rain fell in 24 hours as normally falls in the area in the whole of June.
A number of rivers burst their banks as the stormwater flowed downstream. Among the worst affected areas were Talybont, Dol-y-bont, Llandre, and Penrhyncoch.
Rescuers helped people to safety at the Holiday Park and Riverside Caravan Park in Llandre, Mill House Caravan Park at Dol-y-bont, Sea Rivers caravan park, Ynyslas, and Glanlerry Caravan Park, near Borth.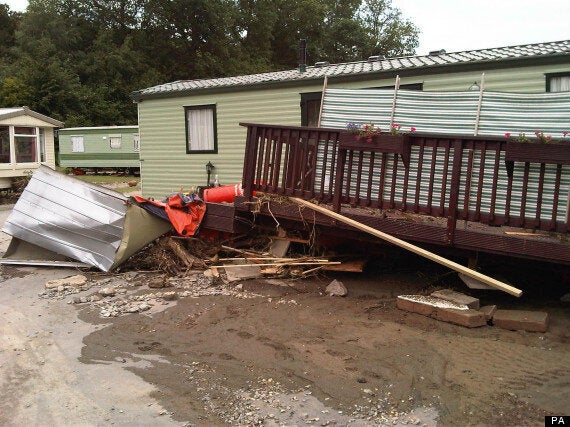 Senior politicians, including Prime Minister David Cameron, paid tribute to their efforts.
The First Minister of Wales, Carwyn Jones, spoke of his shock at the extent of the damage and praised the bravery of emergency crews.
"Having spent a number of years living and studying in Aberystwyth, I was deeply shocked to see the extent of the damage caused by the flooding in an area I know so well," he said.
"Yet again, we have witnessed the impressive bravery of our emergency services."
Weather experts said 81mm (more than three inches) of rain fell in the 24 hours to 7am on Saturday at Trawscoed, Ceredigion, while some areas in that region would have had 150mm (more than six inches) over the same period.
The average amount of rain for the whole month of June in that area is nearer 70mm (just under three inches).