Police are seeking a furious punter who punched a woman cashier in the face after losing a bet.
The gambler flipped when the assistant behind the desk at Ladbrokes in Gloucester told him he had not won his wager. The punter lashed out viciously at the cashier
He swore at her and she asked him to leave the shop. But the man then lunged across the counter and struck her twice in the face.
Police are now hunting the bad loser after the vicious assault which left the innocent cashier with bruising and swelling below the eye. The assistant cowered as the punter leaned over in fury
They are appealing for witnesses to the incident, which happened at 10.10am on Sunday in the city's Southgate Street bookies.
A spokesman for Ladbrokes said yesterday (Weds): "Incidents like this are always distressing for those involved but we have excellent security procedures.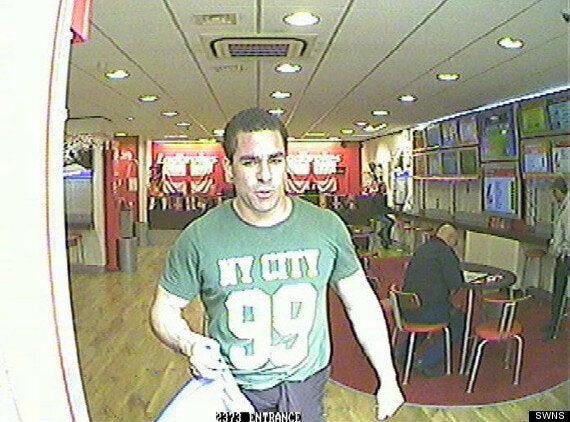 Do you know this man? He is the subject of a police appeal
"We also have the best CCTV in the business - the images from which we are using to assist the police with their enquiries."
Anyone with information is urged to call police on 101, quoting incident 160 of 10 June,
or Crimestoppers on 0800 555 111.