If you're getting used to blue skies and sunshine, it's time for the Met Office to rain on your parade.
The weather forecasters have predicted a fresh "unseasonable Atlantic storm" to batter Britain over the next few days.
According to The Telegraph, we're in line for a "once in 50 years" storm - which could bring a month's worth of rain in just a day.
The Met Office has now issued a new warning of wet and windy weather with periods of persistent heavy rain for parts of Wales and south-western England from late on Thursday until Saturday.
On Thursday evening they expect up to 40mm of rain, with Northern Ireland and Wales facing even heavier floods and winds of up to 50mph.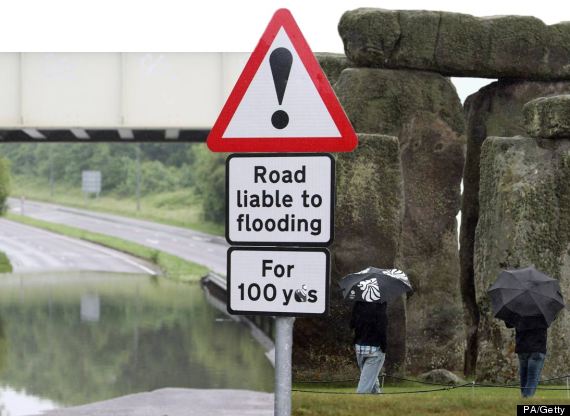 The news came as heavy downpours battered Britain, with forecasters warning they are set to continue through the rest of the week.
Frank Saunders, Chief Forecaster at the Met Office, said: "The unsettled theme we have seen so far this month is set to continue with more wet and windy weather to come, especially through tonight and tomorrow, although we are not expecting it to be as severe as the weather last weekend."
"We are working closely with colleagues in the Environment Agency and other agencies to ensure that we are all aware of the latest weather forecast. However people should keep up to date with the latest weather forecasts and warnings from the Met Office on our website for the latest information."
The Environment Agency urged people in the South West and most of Wales to remain vigilant and prepare for flooding.
There are concerns the rain could lead to surface water flooding particularly in upland areas and places already at risk of floods after heavy rain earlier this week.