A police officer killed newspaper seller Ian Tomlinson in "a gratuitous act of aggression" while his "blood was up", a court heard on Monday.
Pc Simon Harwood is accused of hitting Tomlinson with a baton and pushing him to the ground as he prepared to walk away from a line of officers in the City of London in April 2009.
Within minutes the 47-year-old - who had been trying to walk home but found his usual route blocked due to the G20 protests that day - collapsed and later died.
Harwood, from Carshalton in Surrey, maintains that he used reasonable force and denies manslaughter.
Tomlinson was facing away from Harwood and would have been "taken completely by surprise" when he was hit, jurors were told, and had little opportunity to protect himself from a heavy fall.
Opening the prosecution case at Southwark Crown Court, Mark Dennis QC said: "The assault upon Ian Tomlinson had been an unnecessary and unreasonable use of force by the defendant. Ian Tomlinson was not posing any threat to the defendant or any other police officer.
"He was displaying no aggression towards anyone nor even making any provocative comments."
Harwood's reaction was "wholly disproportionate" in the circumstances, the court heard.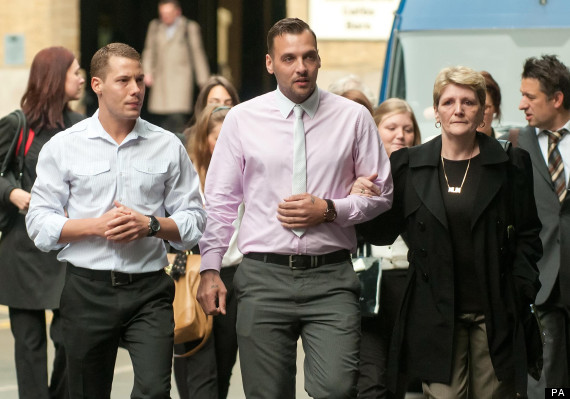 Julia Tomlinson (right) the widow of Ian Tomlinson with her sons Richard King (left) and Paul King (centre)
Dennis continued: "There had been no need to use any force upon Tomlinson, let alone a forceful baton strike followed by a powerful push to the back that sent Ian Tomlinson flying to the ground.
"The display of force has all the hallmarks of a gratuitous act of aggression by a lone officer whose blood was up having lost the self control to be expected of a police officer in such circumstances, and who was going to stand no truck from anyone who appeared to be a protester and to be getting in his way."
Initially pathologist Dr Freddy Patel found that Tomlinson had died from a heart attack, but questions were raised when an American tourist came forward with a film recording of him being hit.
Further medical reports suggested that in fact he died from an injury to his liver which caused internal bleeding and then cardiac arrest.
Tomlinson had been homeless for several years during his life and was a heavy drinker, suffering from cirrhosis of the liver. He had been drinking from early morning on the day he died, and by shortly after 7pm when he first encountered the police, he seemed "somewhat oblivious" to his surroundings, the court heard.
An officer who spoke to him at a road block near Bank said that Tomlinson was not angry about not being able to take his normal route home to Smithfield, but stared at him in "incomprehension".
Passers-by said he seemed "out of it" and was slow to react, and he had to be moved out of the way of a police van that he did not realise needed to get past.
Meanwhile, Harwood, who was tasked with driving a police carrier and monitoring radios that day, had tried to arrest a protester who he had seen trying to write something on the side of a police van.
However the demonstrator managed to wriggle free while other protesters cheered, which would have left the officer "embarrassed if not humiliated", jurors were told. He then decided to join with other officers who were on foot in Threadneedle Street.
Dennis said: "Footage serves to illustrate that the defendant had now abandoned the role of driver or radio monitor, but was assuming the posture of someone who was ready to take on the protesters: standing with his baton held in his left hand, resting on his shoulder ready for immediate use.
"The prosecution submit that by this stage his blood was up, no doubt as a result of his confrontation with the graffiti protester, and the scene was set for what was to happen two or three minutes later when Ian Tomlinson made the error of turning into the Royal Exchange Buildings pedestrian passage."
Jurors were shown a series of stills from video footage of what happened that day, including Mr Tomlinson clutching his right side after being hit.
He walked around 70 metres along Cornhill away from Harwood before he collapsed, the court heard, and complained that he had only been trying to get home. The officer meanwhile returned to his carrier.
Passers-by, including a medical student, tried to save Mr Tomlinson, but he died in hospital around 8.10pm.
Later that night, Harwood made a statement in which he made no specific reference to the encounter with the newspaper seller.
He said he had used "reasonable force in order to clear police lines", and went on: "I do not remember how many persons I struck, but done (sic) so in order to prevent any further rioting and to preserve my safety."
The trial continues tomorrow.
Comments have been closed for legal reasons.