The re-appearance of the Cabbage Patch Kids on this year's anticipated top-selling Christmas lists sent us drifting down memory lane.
Yours truly was an owner of one of the chubby-cheeked playmates, but pride of place in my toy box was reserved for my collection of Garbage Pail Kids trading cards.
Scroll down for a gallery of Garbage Pail Kids trading cards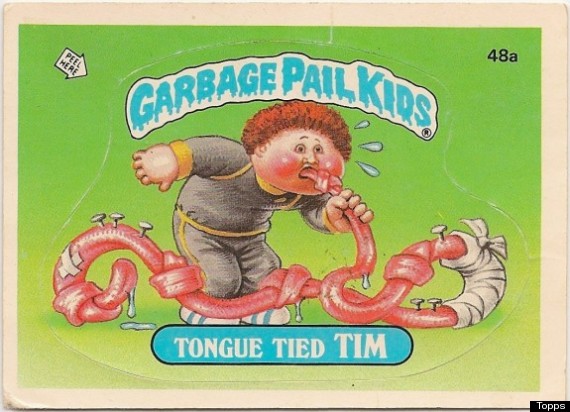 SEE ALSO: Christmas Toys: Cabbage Patch Kids, Mickey Mouse, Barbie And Moshi Monsters To Top List, Says Hamleys (PICTURES)
The sinister relatives of the dimpled dollies (who are also variously known worldwide as The Garbage Gang, La Pandilla Basura, Basuritas, Gang do Lixo, Sgorbions, Les Crados and Die Total Kaputten Kids) were the brainchild of Topps.
Featuring similarly cherubic dolls meeting with terrible fates, the trials of Adam Bomb, Clogged Duane and Acne Amy seemed far more intriguing than those of their cousins.
Check out some of our favourites here.