A dissatisfied customer who lost his patience was filmed calmly trashing a mobile phone shop then waiting for police to come and arrest him.
Thousands have now viewed the rampage uploaded to Youtube, which sees the very unhappy shopper ripping fixtures and fittings off walls at the T-Mobile shop in Manchester city centre.
Finally the dissatisfied customer stomps around the store letting off two fire extinguishers before sitting on a stool and waiting for officers to arrive, when he smiles and proffers his wrists so he can be handcuffed.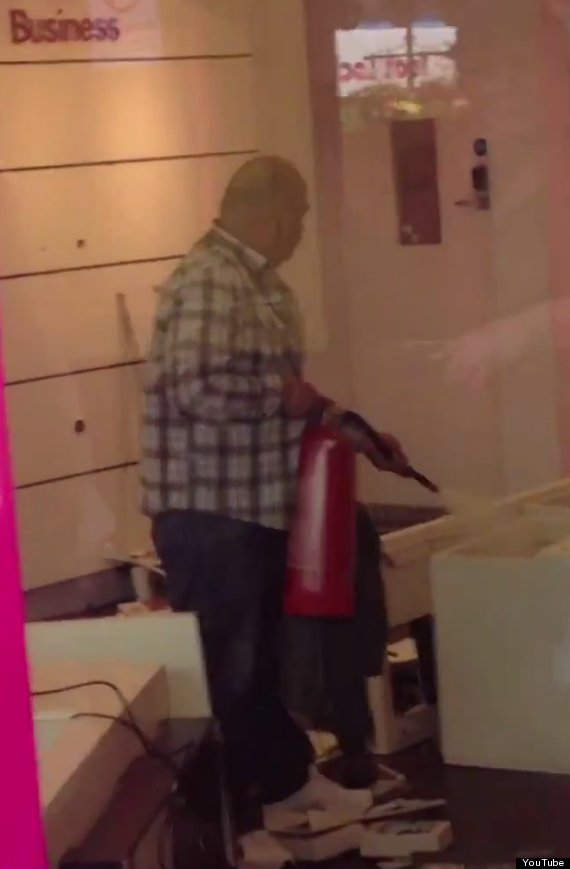 Not such a good call: The man wrecks the shop - but there are dozens of witnesses
The rampage last Saturday afternoon was watched by hundreds of other gobsmacked shoppers outside the store.
It is understood the customer was in dispute with T-Mobile over the terms of his contract.
The 3 minute 44 second-long footage, uploaded on YouTube on Sunday evening and titled, Angry Man Smashes up T-Mobile Shop Manchester, has already been viewed thousands of times.
No comment was available from T-Mobile as the press office telephone number listed on the firm's website was not working.
A spokesman for Greater Manchester Police said Jason Codner, 42, of Cannon Green Court, Salford, has been charged with a public order offence and criminal damage and is due to appear before magistrates on July 31.
Comments are turned off on this story for legal reasons.