With all the moaning about transport, costs and sponsorship, it can be easy to forget that some amazingly creative work has gone into this year's Olympics. Namely, some remarkable architecture.
Even easier to overlook, however, are the people who made it happen - with hard hats, plans and hi-vis jackets.
These people, however, are the muses of Exhibition E20 12: Under Construction, a photography show which seeks to locate the "human element" of the Olympics.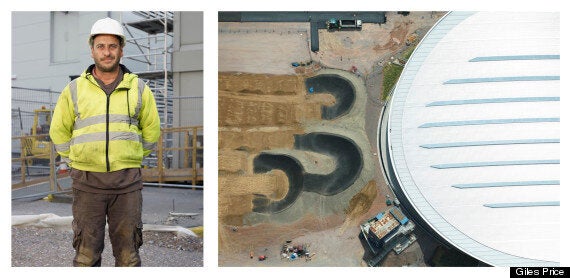 Foreman Andrew Leakey next to the Velodrome and BMX Track
Photographer Giles Price has been documenting the progress of the Olympic site over the last two years to create the exhibition, which is being shown as part of this year's London Festival of Architecture.
Price, who's lived in East London for 15 years, said he was "intrigued the largest urban redevelopment in the UK in the last 150 years."
The incredible bird's-eye perspective of the shots, Price says, originated from practicality: "I soon realised the only way to truly so this was from the air, where there were no restrictions to my accessing the site."
"This soon became a key part of my creative approach towards the project, which has evolved over the last two years to become much more about offering new perspectives."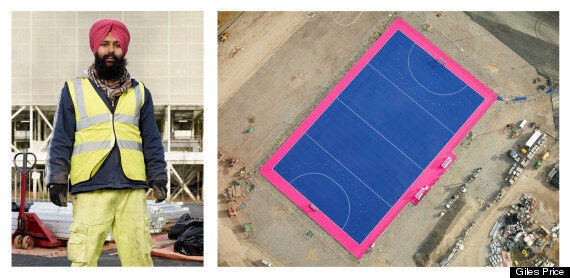 Jagmindald Singh Grewal, a Landscaper, next to the Olympic Hockey Pitch
Over the two years Price worked on Under Construction, he was able to gain access to the staff on the site.
Photographing them, he says, gave him "new insight into the importance and role of each, normally unseen, worker in a development of this scale."
Arguably, Price has had one of the best views of the site of most of us so far. So what's the verdict?
"Through my flights and observing the progress of the development, I can honestly say I've been amazed and impressed by the way a project of this scale has come together, ahead of schedule. It makes a statement about British design, engineering and construction that we can all be proud of."
Check out Price's photographs in our gallery below.
Exhibition E20 12: Under Construction will be on at The Crossing, Kings Cross, until 8 July
Related