A murder inquiry has been launched after the torso of a man was found wrapped in a black bin liner on a beach.
The body, without head, arms and legs, was found by a group of foreign students at Southsea, Portsmouth, at 5.30pm on Tuesday.
The area of the beach remains cordoned off while detectives examine the scene.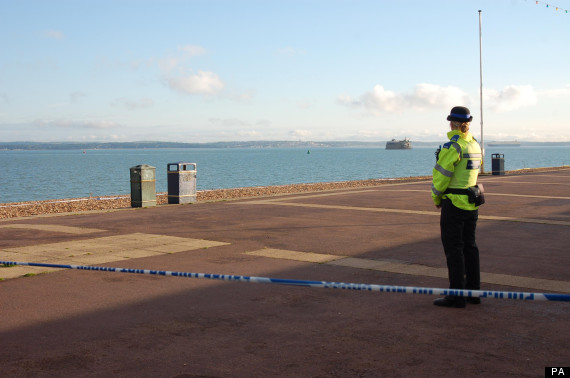 A police officer stands guard near to the spot where a torso wrapped in a bin liner was found on a popular tourist beach at Southsea, Hampshire
Detective Chief Inspector Dick Pearson, of Hampshire Police, said: "Our inquiries today are focusing on identifying the body, which we believe to be male, and how it came to be on the beach, including the possibility that it may have washed up with the tide.
"The torso was discovered by a group of foreign students between 5pm and 5.30pm who alerted some nearby workmen.
"Police were contacted shortly afterwards. As a result of earlier media appeals we have now identified some of the group of students who are currently speaking with officers.
"It may be that the torso wrapped in a black bin liner had been on the beach some hours before it was discovered.
"We are aware that the area was busy yesterday afternoon and evening, with a number of people on the promenade between South Parade Pier and the Blue Reef Aquarium watching the P&O ships and other local events.
"We would like to speak to these spectators if they have specific information which could be of interest to us."
A Home Office post-mortem examination is to be carried out later.