When Adam Lambert takes his place with the remaining Queen members in London next week and starts to sing the songs that Freddie Mercury made so famous, is there going to be a ghost on the stage?
"Maybe a little bit," admits Lambert. "But you'd have to ask them. I wouldn't presume to make that call."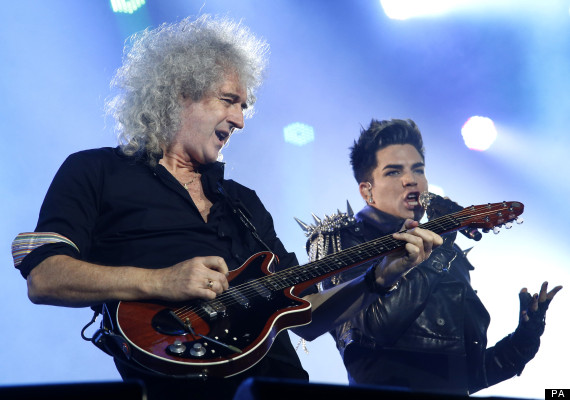 Brian May and Adam Lambert in harmony on stage
Lambert is obviously ecstatic that nearly two decades after Mercury's death, Queen have finally nominated him as someone worthy to fill the almighty gap left by the showman. But he's quietly confident he's up to the challenge:
"I'm not superstitious about it. I do recognise the pressure and the expectation and I want to do a great job, I don't want to let anybody down. I want to put on a good show. But I also feel confident that I'll be able to do that.
"The music does resonate with me, because of my background in theatre, and singing rock music, so it's a natural fit. Freddie was so theatrical. Some of the songs are hard rock, some of the more obscure stuff could have influenced... Andrew Lloyd Webber's early works."
While hardened glam rock fans may quake at the comparison, this is high praise indeed from Lambert, who grew up on a diet of musical show tunes - and it was no doubt his theatricality, as well as his soaring vocal range, that appealed to Brian May and the chaps, and has made the collaborative process such a smooth one:
"The best thing is that Brian and Roger are lovely," reveals Lambert.
"It's very prestigious gig, but taking it would have been a harder decision to make had they not been, and my confidence levels would have suffered. And to do this music, you have to be secure."
Lambert originally met his Queen colleagues on the final of American Idol in 2009 (WATCH this mouth-dropping performance below), in which he eventually came runner-up...
"I met the band, and there was a connection. They were so down to earth, positive and sociable, and I came away thinking 'what dudes' and we had kind of mentioned doing... something."
READ The full interview with Adam Lambert on tomorrow's Huffington Post UK

How his father brought him round from Andrew Lloyd Webber to rock
'Playing the game' on American Idol
The whole gay thing (first openly gay American artist to get to number one on the US Billboard Chart
THAT controversial moment at the 2009 AMAs - what was he thinking?
Of course, the media decided it was a done deal there and then, says Lambert, which sounds like one of those occasions when a couple of actors become friends, get told they're dating by a hungry press and then never speak again out of embarrassment.
Lambert laughs. "It was a flattering rumour, but it was only a rumour. And then the AMA Awards in Belfast came up, and suddenly I was on the plane with them."
Lambert proved himself that night - it certainly didn't sound like he'd just met May and the others...
"We rehearsed the songs a couple of times - I was gagging over watching them play the songs, and then I got to sit with them and hear their stories.
"So I've basically got the best seat in the house, and a personal rockumentary unfolding in front of me.
"They're gentlemen, they're humble but they're also stars and they know it. So it feels good."
Lambert, whose own second album is released on Monday, cites his fellow bandmates as role models, too, "for longevity, for proving that you can go through decades shaping rock and music, and just be content, lovely, balanced and chilled".
Of the gigs themselves, Lambert obviously can't wait to get out there and sing the famous songs, and leave any critical or fans reactions firmly beyond his control...
"Everybody can speculate and compare," he says completely calmly. "If you want to see a good show, buy a ticket, and you won't be disappointed.
"I feel secure. I'll hit wrong notes – that's life – but I'll try to make it work when I f**k up."
Sounds like Freddie would approve.
Adam Lambert's single is released on Sunday. Here he is in action on his own...