Syrian ruler Bashar al-Assad has suffered the first defection of a close ally since the regime's brutal crackdown of the rebels began more than 16 months ago.
Manaf Tlas, one of the dictator's inner-circle, fled to Turkey on Thursday and is on his way to France, according to the French Foreign Minister.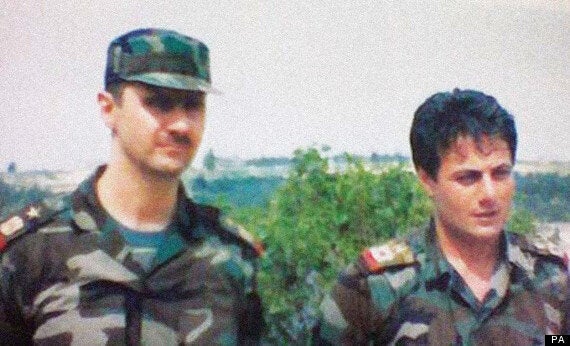 Assad and Tlas in military fatigues
World leaders are currently gathered in Paris at a conference for the "Friends of Syria" in the hope of finding an end to the crisis.
US Secretary of State Hillary Clinton and French President Francois Hollande are attending the meeting.
Despite being a Sunni Muslim, Tlas became part of Syria's political top tier attending military training with the Syrian president. Assad is an Alawite, part of the country's ruling minority.
Tlas, whose father was defence minister for the Government under the rule of Assad's father, holds the rank of Brigadier General in the Syrian army.
Clinton opened the conference with a warning to China and Russia, saying that both countries should pay the price for impeding a solution to the crisis through their intransigent support of the Assad regime.
"It is frankly not enough just to come to the Friends of the Syrian People because I will tell you very frankly, I don't think Russia and China believe they are paying any price at all," she said.
Reported by AFP, French minister Laurent Fabius confirmed at the conference: "A senior official from the Syrian regime, a commander in the Republican Guard, has defected and is headed to Paris."
Opposition groups now hope that the defection of such a high-ranking official will encourage more people to leave the Assad regime.