The nation is willing Andy Murray to victory in today's Wimbledon final, with many of his high-profile friends taking to Twitter to pass on their good luck messages.
The Scot's Twitter account has remained silent during his Wimbledon campaign, but messages have flooded in on the micro-blogging site ahead of his crunch match.
Basketball player LeBron James, whom Murray has cited as inspiration for his Wimbledon battle, wished the Scot luck via Twitter, saying: "Good luck @andy_murray at Wimbledon tomorrow. Congrats on getn to the final. Honored by the shout out. Will be rooting for U. C u in London!"
Boxer Amir Khan, a friend of Murray, wrote: "@andy_murray well done mate what a performance done everyone proud! Now go and win it!"
First Minister Alex Salmond said the whole of Scotland is backing Murray.
"This is an absolutely unique moment for any Scot - getting to the final is a magnificent achievement in itself, and the whole of Scotland will be cheering Andy on to go one better.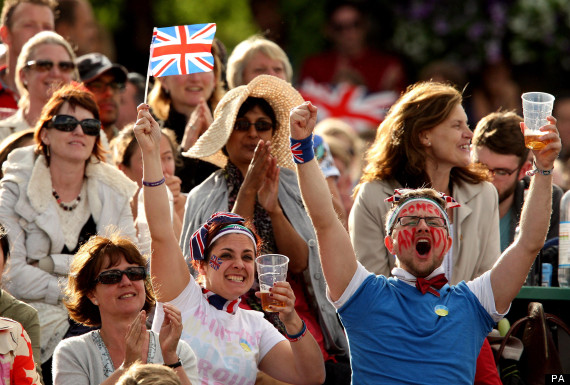 Fans celebrate Andy Murray's semi final win over Jo-Wilfried Tsonga
"He has carried himself extremely well and played brilliantly right throughout the tournament and it is clear he remains calm and focused on this vital match. I'll be there in person to help cheer him on."
Prime Minister David Cameron said: "I'll be watching the final on Sunday and, like the rest of the country, will be getting right behind Andy Murray - I wish him the best of luck."
Scottish Secretary Michael Moore said: "Andy Murray fully deserves his place on the greatest tennis stage of all this Sunday. He has been knocking on the door for the past few years and now he is the first-ever Scot to make it to the Wimbledon men's final.
"It is a fantastic personal achievement which makes all of us proud. For him, his family and all his team this is a great moment. Everyone across the country will be willing him on, as they have over the years.
"Andy Murray is already a sporting hero and now he is one win away from becoming a legend. Come on Andy!"
Mayor of London Boris Johnson was among those who took to Twitter to wish Murray luck, writing: "Well done Andy Murray! Let's hope he can do in this Jubilee year what Virginia Wade did when she won in 1977 during the Silver Jubilee!"
Former tennis professional Andrew Castle wrote: "So Federer plays for record 7th Wimbledon title and world no 1. Murray plays for his place in tennis history."
Other tennis fans included Lord Sugar, who told Murray "well done", and presenter Jonathan Ross, who wrote on the website: "Tsonga gave Murray a real test. He proved himself today. Great match."
Comedian Eddie Izzard wrote: "Well done mate - Andy Murray into first Wimbledon final."
Addressing comments from some that Murray should have appeared more pleased in his post-match interviews, broadcaster Piers Morgan wrote: "Scowl and snarl your way to the Title #AndyMurray - nobody wins trophies in professional sport for possession of a cutesy smile. #BritGrit."
Virgin owner Richard Branson congratulated the 25-year-old, writing: "Congrats Andy Murray! Good to see a British player in the #wimbledon final, my Scottish wife will be happy!!", while former England striker Gary Lineker wrote: "Watching truly great sportsmen is so uplifting! Not just the immense skill, but the heart!!"