Scan: The image clearly shows the baby hidden within the luggage
An Egyptian couple have been detained after attempting to smuggle their baby through an airport security scanner because he didn't have a visa, it has been reported.
The couple were arrested at Sharjah International Airport as they tried to enter the UAE on Saturday morning. Carry-on luggage is typically scanned at Emirati airports on arrival after passports have been stamped, AP reports.
As well as no visa, the baby boy also had no passport or documents, Gulf News said. According to Al Arabiya, the couple had been living in the UAE illegally and wanted their son to be born in Egypt, but then brought him back with them.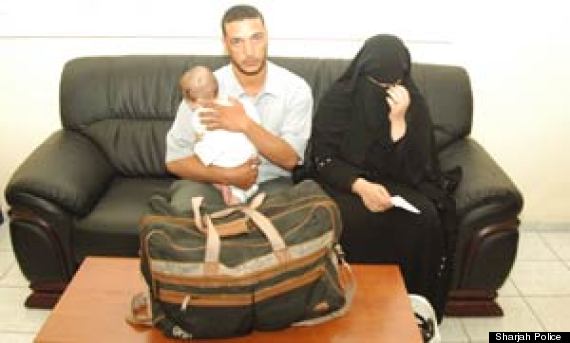 The couple and their child, in a picture released by the Sharjah Police
A police source told the paper: "When customs officials saw the baby inside the bag at the X-ray scanner, they were stunned.
"This machine is very dangerous for anyone, let alone a baby in a bag to pass through."
The National quoted police as saying the parents had put the child's life at risk and the case is being handed over to prosecutors.
He is being cared for by the authorities.
Eels On A Plane! Or How Air Passengers Try To Smuggle The Strangest Things...(PICTURES)