Scuffles broke out as a contentious parade passed through North Belfast on Thursday.
Nationalist protesters clashed with police after Orange Order marches had proceeded by the Ardoyne shops interface peacefully. Punches were thrown but the area is now quiet.
The security forces are on the alert for more violence this evening when the parade returns but Orangemen say a peaceful solution was reached last night following talks with community groups.
The Twelfth of July represents the culmination of the loyal orders marching season.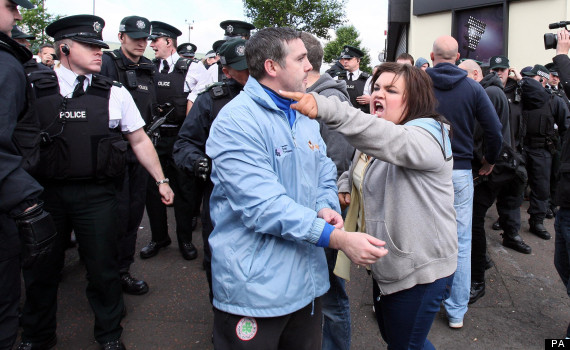 Nationalist protestors scuffle with police as three Ligoniel Lodges make their way past the Nationalist Ardoyne shops in north Belfast
Sinn Fein MLA Gerry Kelly said: "The road is now cleared. it was very tense and there was a peaceful protest as planned. While the lodges and the bands stuck to their (Parades Commission) determination, there was a substantial number of supporters who started shouting abuse at the protesters and it got a bit hairy but we are through it, it has been a lot worse in the past."
Ten people were arrested last night during separate disorder in the Broadway area of West Belfast. Nine remain in police custody.
Hundreds of anti-riot police are on duty today amid fears of street disorder in north Belfast after a big Orange Order demonstration in the city.
Politicians on all sides as well as Northern Ireland Secretary Owen Paterson appealed for calm in the Catholic Ardoyne district where dissident republicans are to protest against the returning parade by some Orangemen from neighbouring Protestant districts.
There has been major trouble before at this particular flashpoint at the end of the traditional Twelfth of July rallies when police were attacked with petrol bombs and bricks by gangs of masked men opposed to the Sinn Fein peace process strategy of Gerry Adams and Martin McGuinness.
Last night Belfast Orangemen said they had agreed a solution which would allow a peaceful return parade following a ruling that they proceed home earlier than normal from the main demonstration field.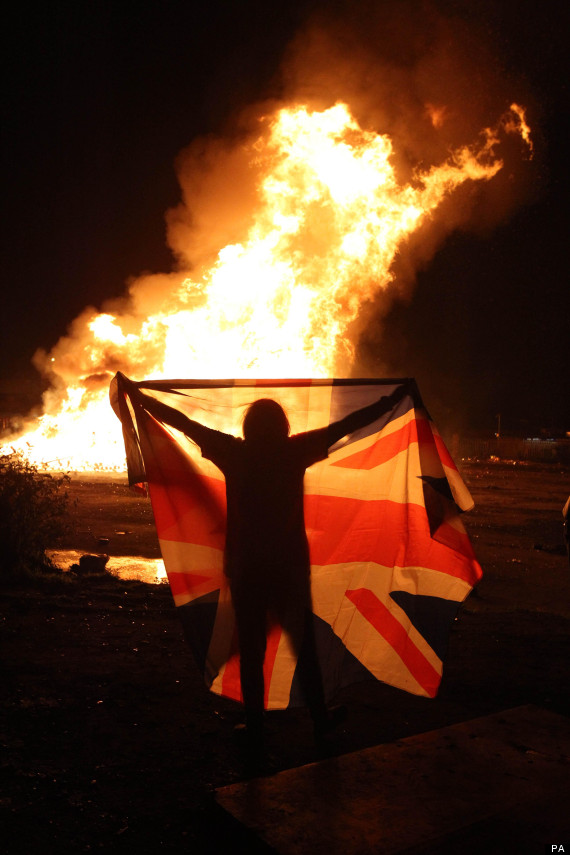 People gather at a huge bonfire on the Shankill Road in Belfast as Orange Order members
The chairman of the Police Federation, Terry Spence, who represents almost 7,000 rank and file officers who called for restraint, said: "No yard of road is worth either an injury or the death of a police officer or a member of the public. The parade should not become a day of shame for both communities."
After all the positive publicity surrounding the opening of the new £100m Titanic visitors centre in Belfast and the Irish Open golf championship at Royal Portrush on the north Antrim coast a fortnight ago, the fall-out from this parade and rival protest has the potential to cast a dark shadow over those spectacular international images.
The Parades Commission which adjudicates on contentious marches has ruled the Orangemen must return along the Crumlin Road past Ardoyne by 4pm.
Police say that deadline will be rigorously enforced, but the Orangemen insist it is an impossible one to meet and with republicans due to stage a rally an hour and a half later, community representatives are fearful of trouble.
Last night Orange Order leaders in the city said they had come up with a solution to ensure the return parade would pass off peacefully, but they said details of the plan would not be revealed until later today at a rally on the southern outskirts of the city.
Mr Paterson has warned the price Northern Ireland will have to pay if trouble escalates into a full scale riot and what it might mean for those involved and detained by police.
He said: "The consequences of breaking the law would not only be bad for Northern Ireland, its global reputation and attractiveness as a place to visit and do business. It would also be immensely damaging for anybody who engages in a few moments of madness, as the recent very stiff sentences handed down to people who participated in violence last year demonstrate.
"We all have a responsibility, working together, to ensure a successful and enjoyable Twelfth and to keep Northern Ireland moving forward. This requires real leadership in Northern Ireland at all levels and right across the community."
There are several other demonstrations taking place across Northern Ireland to mark the anniversary of the Battle of the Boyne in 1690 when the Protestant King William triumphed over the Catholic King James.
Virtually all of the parades are expected to pass off peacefully, including a march in the predominantly Catholic village of Crumlin, Co Antrim.
Private arrangements were agreed at a meeting of local residents worried about the possibility of trouble, and the organisers of the parade.
Justice Minister David Ford has called on politicians and community leaders to use their influence to keep the peace. Violence was not inevitable, he said, but any trouble would damage community relations and tarnish the reputation of Northern Ireland internationally which was at an all-time high.
He said: "It is evident that a small number of recent decisions by the Parades Commission have caused considerable concern. However, the decisions of the statutory body stand and should be complied with. Society cannot opt out of complying with the law."