For the first time in its history, The Sun newspaper issued a cover wrap advert on Friday, featuring a range of sports stars to promote a summer of British sport on 3D television.
And the sponsor who supposedly forked out over half a million pounds for the privilege? The Sun's sister company, BSkyB.
The broadcaster is partly owned by media mogul Rupert Murdoch, who also owns News International, proprietor of the tabloid.
According to the Guardian, the advert, which features Olympic hurdling hope Perri Shakes-Drayton, cricketer Ian Bell and Tottenham Hotspur midfielder Scott Parker, is believed to have set the company back "more than £500,000".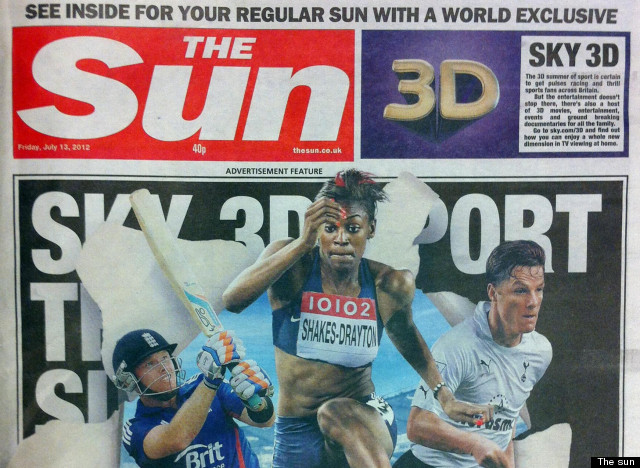 The Sun's front page ad on Friday 13 July, the first in its history
According to an email News International executive Tom Mockridge circulated through the company on Thursday night, "The Sun [has] once again set new standards for our industry having landed one of the biggest deals ever for our industry".
The cover wrap was the first time the Sun have given away both their front and back page for an advert in the paper's 42-year history.
BSkyB is believed to be the biggest sponsor for The Sun, spending an approximate £9m for space in the paper so far this year.