Daredevil performers could be seen leaping across some of London's most famous monuments on Sunday, in a celebratory display which fused dance, acrobatics and the capital's cultural landmarks in honour of the Olympics.
US choreographer's Elizabeth Streb's troop of acrobatic dancers could be seen "bungee dancing" off the Millennium Bridge and abseiling down City Hall as part of the London 2012 festival.
The performances were intended to be "positioned somewhere between dance, free-running, gymnastics and circus" but with a shroud of secrecy cloaking the ambitious event, it was hard to anticipate what Streb had imagined. Hundreds stood and watched as the daredevil performance began
Once described as the 'Evel Knievel of dance', renegade choreographer Streb told the Evening Standard earlier this week that the one-off performance was "as far as I've ever gone. In some of the events we're freefalling from 40 feet. It's going to be the most dangerous thing I've done."
The event, named 'One Extraordinary Day', saw London's public suddenly surprised with red-clad acrobats as they appeared on the city's landmarks, vaulting, twisting and leaping in perfect synchronisation.
Bystanders posted pictures on social media sites, with some urging Londoners to come see the dancers.
Trafalgar Square was treated to a "human fountain" performance with dancers' fluid movements displayed on a specially designed structure.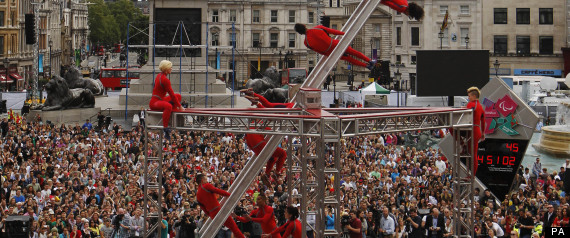 The 'human fountain' performance in Trafalgar Square was a focal point of the performance
Even 62-year-old Streb joined in as the performers walked down City Hall, wearing flamboyant gold boots, a nod to the cultural olympiad. "I had been having nightmares about whether the boots would stick," she told the Guardian.
In the wake of increasing criticism levelled at the games security and organisation, the gymnastic fantasia was a transformative celebration. Streb has been described as the 'evil knieval of dance'
Streb's carefully choreographed display of disciplined showmanship anticipates athletes' own olympian efforts as they prepare to compete in Stratford's stadiums later this month.
The Brookyln-based choreographer says of her own attitude to dance: "Go to the edge and peer over it. Be willing to get hurt, but not so hurt that you can't come back again."
Take a look at some of the stunning photos below.