Even public displays of affection can't sway the eminent coolness of the Obamas, as proved when the American President and the First Lady were caught by the 'kiss cam' at a basketball game on Monday.
Attending an Olympic warm-up match between the USA national team and Brazil in Washington DC, the courtside Obamas were subjected to the very American tradition, which dares couples to share a kiss with the thousands in attendance.
While the 'kiss cam' is a phenomenon that seems alien to more reserved British sports crowds but the two handled the moment with customary charm - even their daughter, Malia, didn't seem embarrassed at all.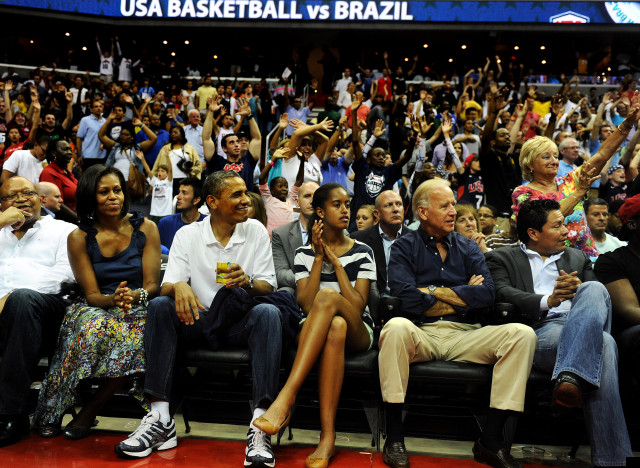 The Obamas, Michelle, Barack and daughter Malia, attended the game alongside VP Joe Biden
The couple went along with the stunt, sharing a kiss and loving embrace while the crowd cheered them on.
However, according to American sports network ESPN, Michelle actually turned down the opportunity in the second quarter of the game, to the venue's dismay, before relenting the second time around in the fourth quarter.
The Obamas indulge the crowd, sharing an intimate moment with the thousands in attendance
Obama is known to be a keen basketball fan, who even took David Cameron to a college basketball game during the British PM's to the country in March.
You can watch the moment as it happened on video above, and flick through pictures of the Obamas' night out below.