Apple has an amazing new innovation: a staircase.
At its recently renovated store in SoHo, New York City, there is what at first appears to be a regular glass Apple staircase, like that seen in its (award winning) British stores.
(Actually even those stairs are actually fairly complex, being made out of several large panes of glass and steel. The design is so novel it is actually patented.)
But when one visitor looked closer, recently, he realised that the SoHo stairs are even more amazing than usual: they are actually cut from a single piece of glass.
That's right - the full side panels of the staircase are made from one large piece (actually five, sandwiched together) of toughened, zig-zag glass - which is reportedly unheard of in architectural circles.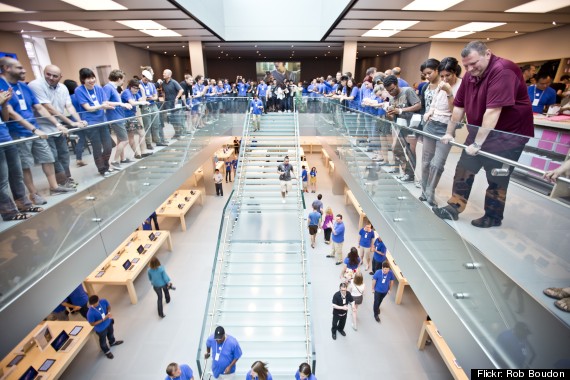 The design website Core 77 noticed the innovation. Check out their report for more pictures of the new store.
Apple is well known for innovating with glass - and not just on its iPhones. It recently opened a store in New York with a glass roof and walls, and its iconic 'cube' store, also in New York near Central Park, features 32-foot high glass panels.
Unfortunately not everyone is happy with Apple's innovative stairs. According to The Register, the Women's Affairs Committee in Hong Kong recently listed the Apple store as a blackspot for voyeurs.
According to the pro-Beijing committee, it's possible to use the glass stairs to try and see up ladies skirts, despite the fact that the glass is opaque.
The committee warned women to stay away and report any incidents to police.