The bomb blast that killed three members of the Syrian regime's inner sanctum on Wednesday is being touted as the most significant strike against President Bashar al-Assad since the uprising began.
Both the Free Syrian Army and the Liwa al-Islam have claimed responsibility.
Regardless of who is behind the attack, the blast shows is that the regime, which has shown a collective defiance despite 16 months of bloody rebellion, could finally be unravelling under internal pressure from its opponents.
The bombing killed the President's brother in law, Assef Shawkat, the man widely regarded as the mastermind behind the government's brutal crackdown.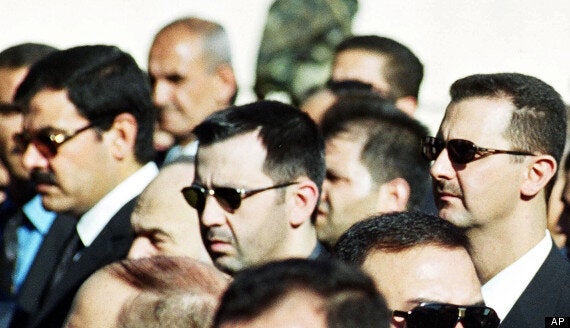 Pictured in 2000, Syrian President Bashar Assad, right, his brother Maher, center, and brother-in-law Major General Assef Shawkat, left
The country's defence minister, Daoud Rajiha, was also killed, as was former defence minister Hasan Turkmani. Maher Assad, the president's brother and the leader of the renowned 4th Armoured Division, reportedly sustained injuries.
A senior Republican Guard commander also recently defected, while rumours suggest further high-profile desertions are imminent.
Global reaction to the bombing has been swift. Foreign Secretary William Hague said the situation in Syria "is clearly deteriorating", while US defence chief Leon Panetta expressed "concern" over the escalation in violence.
Russia's foreign minister, Sergei Lavrov, said on Wednesday that a "decisive battle" was underway over Syria's future, while adding that Moscow would not agree to a new UN draft resolution threatening further sanctions should Assad not comply with a UN-backed peace initiative.
Following the attack, Syrian state TV remained defiant, suggesting that "terrorists" backed by the west were responsible, while the army issued at statement that said the country was "more determined more than ever to confront all forms of terrorism and chop off any hand that harms national security".
Despite the regime's seeming unwavering resolve, Wednesday's bombing alongside the recent defections indicates that the long reign of the Assad and his Alawite cohorts may finally be coming to an end.