Farmers could stage further protests against the price they are paid for milk, one of the industry's leaders said on Friday.
The chairman of Farmers for Action (FFA), David Handley, warned that producers could target other dairy processors after Thursday night's demonstrations.
Dairy farmers are furious about cuts of up to 2p a litre in the amount they receive from major milk processors and many fear the shortfall will force them out of business.
Supporters of the FFA used tractors to block a Robert Wiseman Dairy processing plant near Bridgwater, Somerset, while other farmers gathered outside an Arla plant in Ashby-de-la-Zouch, Leicestershire, and at another plant in Leeds.
The action is the latest in a series of protests by farmers who are angry that they are to be paid less for their milk than it costs to produce it.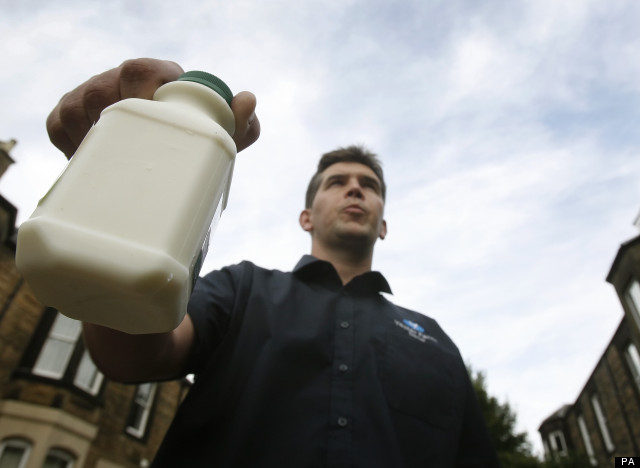 Diary farmer Simon McCreery delivers free bottles of milk advertising the effects of the milk price cut on his business
Mr Handley, a dairy farmer from Monmouthshire, said there were meetings on Friday with Robert Wiseman and Arla and said plans were being drawn up for further demonstrations.
"You have got to give these people the opportunity to respond," he said.
"We will judge at the end of that whether there is a necessity to go back there again or whether we move on to the next target.
"I think that sort of decision will be made fairly soon. We have got a contingency plan to go out, certainly at one depot, tonight.
"That will hinge on what happens today and then we will make the plans for next week."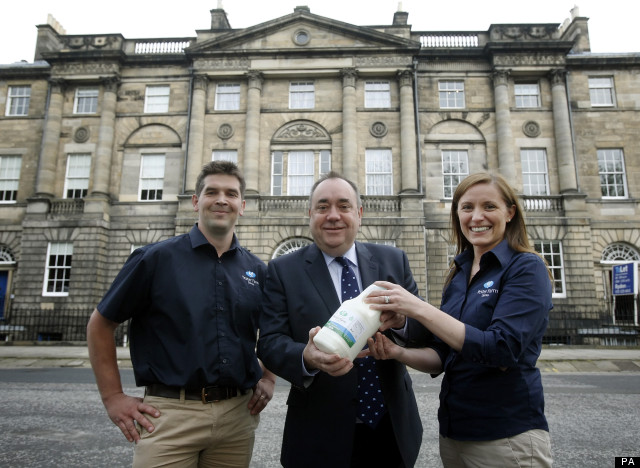 Simon and Jackie McCreery with the supportive Scottish first minister Alex Salmond
The latest cuts will see farmers paid around 25p a litre for milk, but the NFU said the cost of production is 29p a litre, meaning a sale price of 29.5p is the minimum needed to remain viable.
Farming minister Jim Paice said he would be holding meetings next week with milk producers and supermarkets to draw up a voluntary code for contracts.
"They can't operate a cartel but what they can do is sign up to a voluntary code of practice," he told BBC Five Live.
"There's nothing illegal about this. This would not set the price but would set the arrangements for the contract so that farmers and processors knew where they stood."