A 10-month-old baby with Down's syndrome is being used to front an entire advertising campaign for prestigious Spanish swimwear designer Dolores Cortes.
It is the first time that someone with Down's syndrome has been the main model for a high-end designer's marketing campaign, reports Adweek.
The baby, Valentina Guerrero from Miami, was carried onto the catwalk by Cortes during her fashion show at Miami Beach on Friday.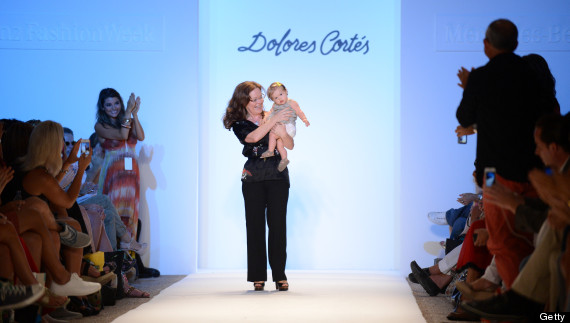 Valentina makes her catwalk debut in Miami with Dolores Cortes on Friday
Valentina already appears on the cover of the new Dolores Cortes USA catalogue, reports Adweek, and will be the face of the brand's 2013 DC Kids adverts.
"People with Down syndrome are just as beautiful and deserve the same opportunities. I'm thrilled to have Valentina modelling for us," Cortés said.
The company is donating 10% of its profits from the kids' range to the Down Syndrome Association of Miami.
Valentina's mother, Ceceliz Fernando, told the charity: "I was excited mainly because the fact that they are placing Valentina on the of a catalogue sends a very clear message of inclusion; all children deserve the same opportunities, regardless of their physical, economic, social, racial or medical condition."
Around one in every 1,000 babies born in the UK will have Down's syndrome, according to The Down's Syndrome Association. There are 60,000 people in the UK with the condition.
Check out Dolores Cortés' 2013 collection below:

Dolores Cortes 2013 At Mercedes-Benz Fashion Week Swim