Until Sunday morning the name Lizzie Armitstead meant very little to your average couch dwelling Olympics fan, writes Stephen Hull from the finishing line of the women's road race.
But she has been elevated to front page status after bagging Team GB's first medal of the home games.
As the women's road race neared its climax in the Mall, thunder cracked through black clouds, rain poured, but crowds cheered on - they knew a lot was at stake.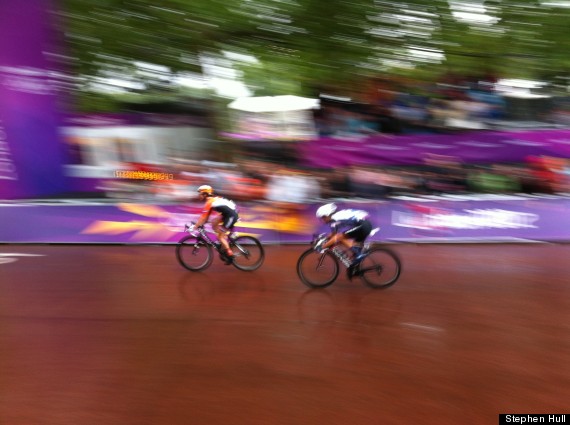 So close: Lizzie Armitstead managed to win Team GB's first medal with a silver
It was a chance for many things. Firstly, to right the wrong of Mark Cavendish's 29th place in the men's race.
Secondly to get Team GB on the medal table. Every shout and scream counted.
When the announcer revealed over the PA there was only 1km left of the race, the rain seemed to come down even harder.
Ticket holders (well, the ones that turned up - more of that later) banged their hands against the purple and gold London 2012 hoardings which lined the Mall to the finish.
As the distant rota noise from the over-head TV helicopter grew ever louder so did the roar of the crowd. It was game on.
Lizzie stormed down the Mall, with the back drop of Buckingham Palace, but she didn't quite have the power to push through to the top spot.
The gold was taken by Netherlands' Marianne Vos.
The clouds parted shortly after and as she sunshine fought back Lizzie, clearly over-whelmed by the effort and attention, spoke.
With a slightly wobbly voice she told HuffPostUK and gathered media: "I'm really, really happy.
"Hopefully the GB ball is rolling now. I'm just so grateful to my team-mates, friends and family.
When asked what she planned to do next she added: "Hopefully find my friends and family at some point and give them a hug. It means four years of hard work has paid off."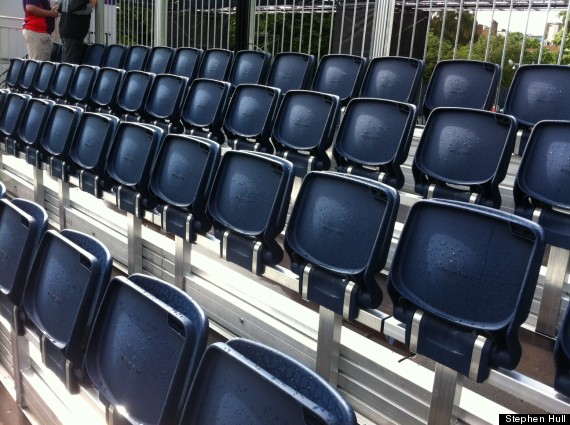 The family stand was empty was Team GB won the first medal
She was then whisked away for the medals.
And who got the biggest cheer? Well, it was of course NOT for the gold medal winner, it was for Lizzie Armitstead who was the focus of hundreds of long lens cameras and smart phone videos.
It was a shame that the family stand which was yards from the ceremony was totally emply - but that, it seems, is something which Lord Coe and LOGOG are going to have to deal with pretty quickly.