The country was captivated by the road race on Saturday and Mark Cavendish made a heroic but ultimately doomed attempt to bring Great Britain its first gold - but for one man, getting a sun tan was a far more worthwhile pursuit than watching the action, even when it passed right beneath his house.
An NBC helicopter camera crew caught the unnamed sun-seeker spread out on his back catching a few rays as the cyclists powered past him below.
A still of the shot was posted on Twitter by Bike Snob NYC - and it's now providing much mirth for social media users the world over.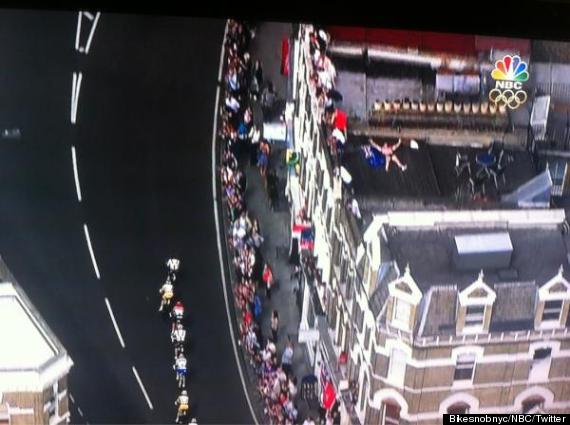 Ray-sing a smile: A TV camera crew spies someone ignoring the road race beneath him
Maybe he had given up hope of a Team GB medal before they'd even reached the finish line and decided to ignore the race.
In the end Mark Cavendish was placed 29th and tweeted afterwards that he was gutted.
Today fans will be hoping that Nicole Cooke can do the business in the women's road race, an event she won in Beijing 2008.
ALSO SEE:

Investigation Launched Into Scandal Of Empty Seats At Olympic Venues