Syrian troops have said they recaptured part of Aleppo as part of a ground assault against the rebel control in the region, as the UN estimated 200,000 had fled the area.
The government has moved on Syria's largest city after a civil uprising.
The UN's Baroness Valerie Amos has said 200,000 people have fled the fighting in the past two days, amid fears of a massacre.
"I am extremely concerned by the impact of shelling and use of tanks and other heavy weapons on people in Aleppo, Syria's most populous city, as well as in the capital Damascus and surrounding towns," the humanitarian chief said in a statement on Sunday.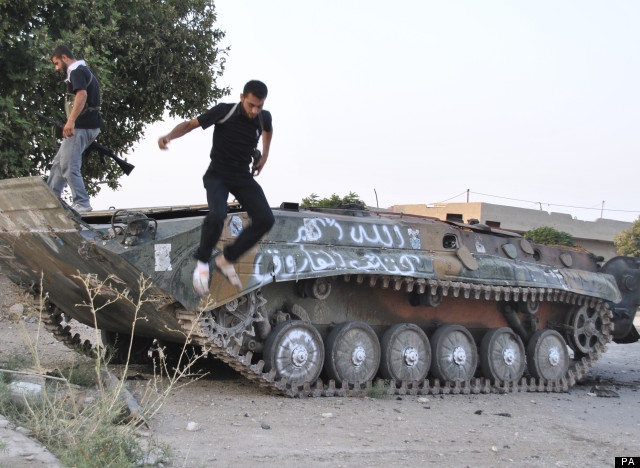 A wrecked vehicle in Aleppo
"It is not known how many people remain trapped in places where fighting continues today."
According to Reuters, a military officer told Syrian state television: "Complete control of Salaheddine [an area of Aleppo] has been (won back) from those mercenary gunmen.. In a few days safety and security will return to the city of Aleppo."
American defence secretary Leon Panetta has said the attacks on the city will "ultimately be a nail in Assad's own coffin."
"What Assad has been doing to his own people and what he continues to do to his own people makes clear that his regime is coming to an end. It's lost all legitimacy," he told reporters.
"It's no longer a question of whether he's coming to an end, it's when." Syrian rebels stand beside a destroyed Syrian army armored vehicle in Homs
On Sunday two photo journalists kidnapped in Syria by militants were freed.
John Cantlie, a British photojournalist who has worked for The Sunday Times and The Sunday Telegraph, as well as the BBC, was held hostage alongside Dutch photographer Jeroen Oerlemans. The two men are recovering in Turkey after suffering gunshot wounds during their ordeal.