As Team GB saddled up for the third day of the Olympics, the royals were snapped watching the Cross Country Phase of The Eventing at Greenwich Park.
The Duke and Duchess of Cambridge and Prince Harry headed a delegation of royal supporters today as Zara Phillips continued her bid for Olympic success.
Her cousins Beatrice and Eugenie and the Duchess of Cornwall also came to the venue in Greenwich, south-east London, to cheer her on. London 2012 organiser Sebastian Coe was also in attendance.
Prince William gave his cousin an enthusiastic cheer as she passed through the main arena where the royals were sitting.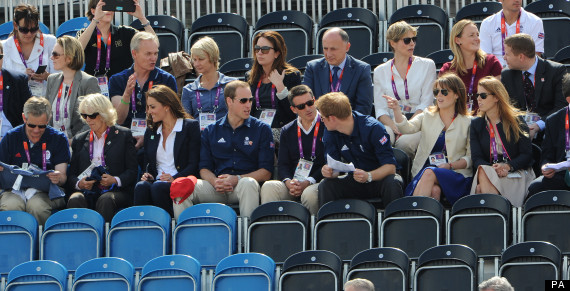 The royal party
William was sporting a navy blue Team GB polo shirt and beige chinos, while the Duchess of Cambridge wore a dark blue blazer, white shirt and dark trousers. She clapped heartily as Phillips came in and gave a big smile as she rode out.
The group were all glued to the big screen for the rest of her round, and there were smiles all round and they all clapped as she cleared the final fence.
The 31-year-old, who made a solid Olympic debut in the dressage yesterday, managed to complete the cross country run in nine minutes and 55 seconds, comfortably within the optimum time.
Riders had to finish the course in under 10 minutes and three seconds. Before her run, several riders had fallen and horses slipped as they tackled a tricky course in historic Greenwich Park.
But Phillips managed a clean and fast run, pumping her fist in the air in triumph as she finished.
Crowds cheered energetically as she competed, growing particularly loud as she entered the main arena, where the royals sat.
Speaking after competing, she said: "I'm so happy, he's such a dude and he's lost shoes, trying to keep him standing on the corners, I hope he's going to be OK."
She said the crowds were "amazing all the way along".
SEE ALSO: