Are you dissatisfied with your sex life? You're not alone, as a recent survey has revealed that over a quarter of women are faking orgasms in the bedroom – EVERY NIGHT.
This rather depressing statistic, revealed in the AskMen.com's Great Male Survey 2012, discovered that 26% of British ladies are being left high and dry between the sheets every time they have sex.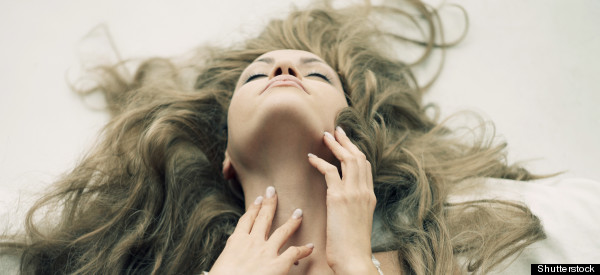 Are you getting enough?
Despite the recent success of the erotic novel, Fifty Shades Of Grey, it seems that the titillating pleasure is staying firmly on the book's page when it comes to women's sex lives, as only 30% claimed they were 'somewhat satisfied' with their partner's performance.
However, it's not just the ladies who are feigning pleasure during sex – over a third of men admitted to faking an orgasm at least once during a relationship.
But if you thought that the quantity of orgasms was key – think again, as a separate study found that, despite 75% of us being able to reach the big O, only a quarter of people are satisfied with the 'quality' of the big climax.
The study by sex toy retailer Bondara found that 85% of Brits would prefer to have an orgasm with their partner.
However, 57% admitted they found it hard to climax together, with over a third admitting that the easiest way for them to orgasm was by themselves.
"It seems that although plenty of people are having orgasms, they still want more," says Chris Simms from Bondara.
ALSO READ:
"It was interesting that most people wanted to orgasm with a partner but not all of them found this easy. With the busy lives everyone leads it's easy to get into a sexual rut as a couple.
"At Bondara we'd suggest that you should take time out to find out what makes each orgasm. Try new things and experiment – whether it's a new position, sex toys or just exploring each others bodies."
But of course, when it comes to sex, reaching orgasm isn't the ultimate goal… is it? Not according to the practice of 'karezza sex', which hit the headlines earlier this month. Why? Karezza sex doesn't involve climax.
WATCH the female orgasm in action

Visualization is courtesy of TheVisualMD.com
The karezza technique is a, "gentle, affectionate form of intercourse in which orgasm is not the goal, and ideally does not occur in either partner while making love," according to a blogger from the karezza website.
A report by ABC News claims this orgasm-free way of making love is a rising trend in the US.
"It creates a deep feeling in a relationship that is very difficult to describe -- much deeper than conventional sex," a karezza fan told the website.
However, if you do want to get lost in the moment and indulge in embroiled passion with the big finale, take a look at these top tips on how to achieve an orgasm, by Cliterati founder and sexpert, Emily Dubberley.