In the weeks leading up to London 2012 politicians and Games chiefs warned of jammed Olympic lanes and public transport packed to the gills with armies of sports fans.
But now the government, the Mayor of London and Olympic leaders want us to head back into the city - to save London from an Olympic tourism slump
Hundreds of Londoners have been posting pictures on Twitter of the "ghost town" which is central London, with shops and attractions deserted.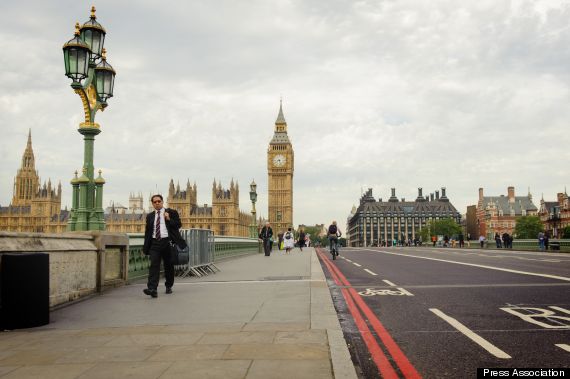 Westminster Bridge appears almost empty of pedestrians and vehicles during morning rush hour in central London
And Transport for London have scrapped a recorded message from Mayor of London Boris Johnson on the tubes, warning people about how packed central London is expected to be during the Games.
Paul Deighton, chief executive for the London Organising Committee for the Olympic Games urged tourists to head for the city - and spend their cash away from Startford's Westfield shopping centre, saying: "There are great shops all over London so you don't need to come to Stratford this weekend."
Mayor of London Boris Johnson denied astute businesses were having any trouble capitalising on the Games, telling reporters at Victoria Park's London Live festival that "those who are looking to engage with the Games are doing great business."
"London is the place to be and I hope as many people as possible get involved with everything that's on offer from attractions at Stratford to those in central London."
Culture Secretary Jeremy Hunt insisted that many business were seeing a "big boost".
Speaking after chairing this morning's daily ministerial Olympics meeting in Whitehall, Hunt acknowledged the numbers of people in the West End "may not be quite as high as they hoped for".
He added: "I think we've got to actually get this in perspective. In terms of people coming to London we are getting record numbers of people coming to London and overall the picture in the East End of London is very encouraging.
"Westfield are getting about 40,000 more shoppers every day than they anticipated. In the West End we're actually getting about the same numbers of people coming into the West End as this time last year. Visitors were expected to head for the centre of the city - with volunteers prepared to meet them
"It may not be quite as high as they hoped for, but there are businesses that are marketed really effectively around the Games that are seeing a big boost and actually the West End is doing very well in the evening as well.
"London is already one of the world's great cities, but these Games have made it iconic and if you have a business in London, in the years to come you are going to benefit massively from the huge amount of publicity, PR, promotion and marketing that you get from having a Games in London."
A London Chamber of Commerce spokeswoman previously said too many people had heeded warnings about transport in the city. Tourists in Trafalgar Square, usually one of the capital's busiest spots
The desertion of central London could be caused by locals leaving the city, sports fans opting to stay in Stratford and regular tourists avoiding the city like the plague while the Olympics are on.
UK Trade and Investment estimated that the Olympics would boost the economy by £13bn over four years.
Hotels have slashed top prices, when some had been hoping to charge up to £400 a night for luxury rooms during the games.
Late Rooms showed the Park Avenue Belgravia had cut prices for its rooms over the weekend from £300 a night to £150 a night.
Only 100,000 foreign visitors are expected over the next few weeks, compared to the usual 300,000. The issue has been widely discussed on social networking sites.
A spokeswoman for the British Museum said there had been a 25-30% fall in the number of visitors.
Bernard Donoghue, chief executive of the Association of Leading Visitor Attractions, which represents venues ranging from London Zoo to St Paul's Cathedral, said visitor numbers were down by between 30% and 35%.
He added: "Our message is that, while it may be sensible to avoid certain peak times and locations, transport is running very smoothly.
"Ironically there has never been a better time to visit our attractions because the queues are shorter and opening times have been extended." Oxford Street stores had hoped for a surge in business
Nica Burns, chief executive of Nimax theatres told the Financial Times: "We're bleeding, darling."
The company runs venues in the West End. She added: "For my six theatres, last week was the worst this year. I think the Olympics are great - but I feel like I've been the bullseye for the archery."
Londoners also tweeted pictures of empty tube trains, despite the chaos that was predicted. But Transport for London said tubes were carrying more passengers. Central London roads are quieter than usual
Transport Commissioner, Peter Hendy said: "London's transport network is busier than usual, with Tube passengers up 7.5 per cent in total on Monday, alongside a record 65 per cent increase on the DLR. 
"With many thousands of Olympic spectators in town, many Londoners are clearly listening to our travel advice, changing the way they travel and avoiding the busiest times and locations and we thank them for that."