Tour de France champion Bradley Wiggins could win Great Britain's first gold medal of London 2012, ending four frustrating days without a first-place gong.
Hopes for Team GB on Wednesday are pinned on cycling, rowing and swimming.
Wiggins is aiming for his fourth Olympic gold when he takes part in the men's road cycling time trial, while Helen Glover and Heather Stanning are going for a win in the women's pairs rowing.
Swimmer Michael Jamieson is also in with a chance of a top podium finish after setting a new British record to reach the men's 200m breaststroke final where he will be joined by teammate Andrew Willis. Another Briton, Jemma Lowe, will compete in the 200m butterfly final.
London 2012's has highlighted 32-year-old 'Wiggo', with his face gracing the Day 5 programme's front cover.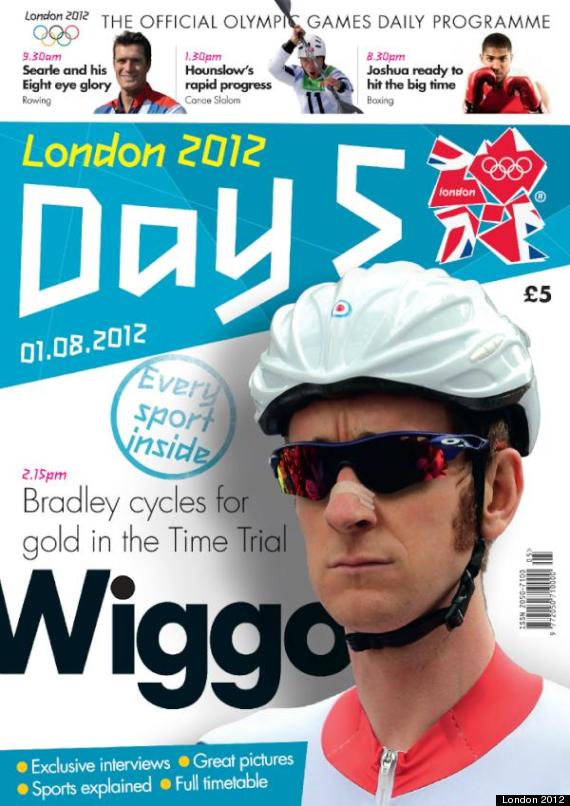 Bradley Wiggins: Great British hope
The Olympic hopeful reportedly said Wednesday's cycling would be a "piece of p***" compared to Tour de France.
And Britons are getting behind him, with The Sun offering readers a cut out and keep gold pair of Wiggins-inspired sideburns.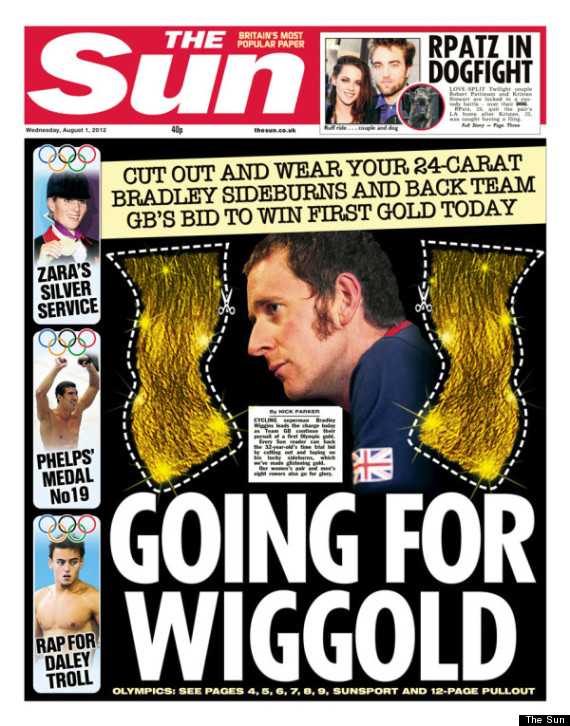 Wiggins himself took to twitter to remark on the weather, writing on Wednesday morning.
Britain's hopefuls may well look towards the Aquatics Centre for inspiration, after American Michael Phelps won a sensational record-breaking 19th Olympic medal on Tuesday night, while 16-year-old Chinese swimmer Ye Shiwen - who denied taking performance enhancing drugs after a US coach branded her first win "disturbing" - scored a second gold.
A podium place in the 44km time-trial around Hampton Court would give Wiggins a record seventh Olympic medal, one clear of rower Sir Steve Redgrave, who has six.
Fellow Briton Chris Froome is also in contention for a medal, while Emma Pooley, aims for the podium in the women's 29km time trial alongside Lizzie Armitstead, who on Sunday claimed Britain's first medal of the Games with silver in the road race.
What to watch today:

9:30am: Women's beach volleyball

11:50am: Women's pairs rowing

2:15pm: Men's road cycling time trial

4:30pm: Men's gymnastics all-round final

7.25pm: Swimming finals

7:45pm: Britain versus Uruguay in Football
Glover and Stanning will be hoping they beat Wiggins in the race to deliver GB's first gold when they race in the women's pairs at Eton Dorney. A win would bring home Britain's first ever Olympic gold in women's rowing.
There are also medal chances for the men, with the final of the men's eight. A win here would be special moment for Greg Searle. The 40-year-old came out of retirement in an attempt to become an Olympic champion for a second time, two decades after winning gold in Barcelona.
Contenders will be hoping to go one better than the equestrian team. The riders, including the Queen's granddaughter Zara Phillips, captured silver medals in the eventing at Greenwich Park on Tuesday.
Their success was followed by disappointment for Britain's women's gymnasts, who failed in their bid to match their male counterparts' podium finish, by coming sixth in the team final.
More of Team GB's competitors arrived at the Olympic village from their training camp in Portugal on Tuesday. Among them was heptathlon medal hope Jessica Ennis, who arrived at the site just in time to meet royal visitors the Duke and Duchess of Cambridge and Prince Harry. Ennis will start her campaign for gold when the athletics begins on August 3.
See below for all the images from London 2012, plus tweets of support for team GB:
SEE ALSO: