Great Britain claimed another medal on Dorney Lake on Thursday as the men's lightweight coxless four pipped the defending champions to the post to take silver.
The dramatic race saw Denmark taking the lead from the start, setting a fast and aggressive pace for Team GB, which included brothers Richard and Peter Chambers, to challenge. Up against the Australian world champions and the Danish defending Olympic champions, the coxless four had a fight on their hands for the gold.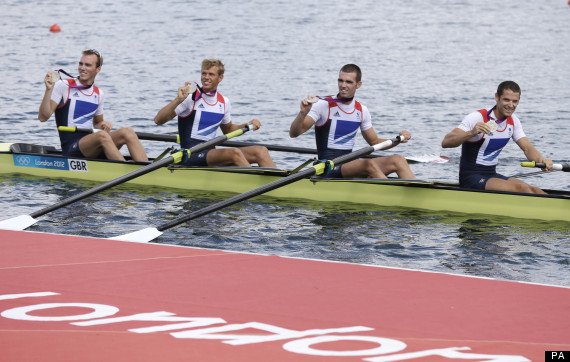 Chris Bartley stroked the boat, with Richard Chambers, Rob Williams and Peter Chambers as bow
Despite settling into a strong rhythm, team GB, stroked by Chris Bartley, were in fifth at the 500m mark with Denmark stretching out a clear length in front of the Australians, who were in silver position.
But the British men didn't fail to apply the pressure, building up their pace as they entered the crucial middle 1000m and climbing up the ladder to third place to challenge the Aussies and the Danes.
By the 1500m mark the British were turning the screw, justifying their place in the final and piling on the pressure. The last 500m was a nail-biting, stomach-churning sprint, with the British crew going head to head with the Aussies to challenge the Danes and compete for gold.
In the last 30 strokes, South Africa came from fourth place, where they had been sitting comfortably for the duration of the final, to challenge the top three, putting in a penultimate push to take them flying past Great Britain and the Danes.
Australia's hard work and staying power fell by the wayside as they came in fourth, with team GB finally overtaking the Danes in those crucial last few strokes.
Unfortunately the British effort was not enough as the South African powerhouses surged ahead to take gold in a dramatic finish but nevertheless leaving our men in a very commendable second place.