A skateboard company is being accused of "profiting from racism" by selling T-shirts which refer to Asian men as "g**ks".
The shirt features two Asian men in a car under the title "G**ks of Hazzard", in an apparent pastiche of the Dukes of Hazzard series.
A strap above, with an apparent dig on the stereotypical Asian accent, identifies them as: "Good orr boys Nuge n' Shimeez".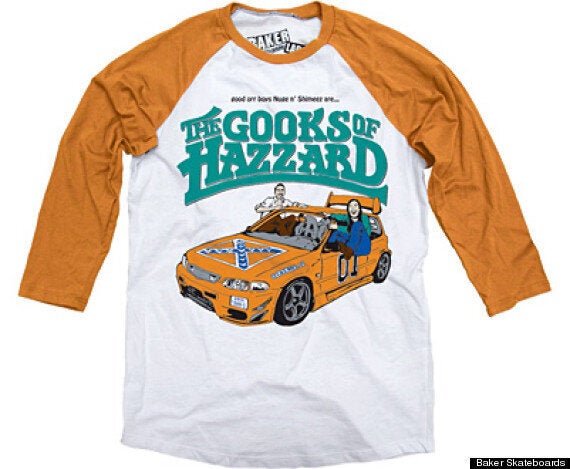 Racist or simply tasteless? Baker Skateboards' 'G**ks of Hazzard T-shirt'
"Baker Skateboards, and the outlets that sell this shirt, should be aware that use of the term 'g**k' on their apparel is offensive and quite simply amounts to racism for sale. No one should seek to profit from racism."
He added: "We don't hear the term so much over here, but unfortunately we have equally foul words to describe East Asians."
"We hope to see it withdrawn in the very near future. It promotes racial stereotypes and it is unacceptable."
Denis Fernando of One Society Many Cultures added: "Derogatory terms and lampooning accents will cause offense to the communities they target. Other communities have had to campaign hard to stop the N word and P word being used casually in popular culture. We do not see this any differently."
Requests for comment from Baker Skateboards are as yet unanswered.
The New Oxford Dictionary of English defines the term as: Offensive, chiefly US, a foreigner, especially a person of SE Asian descent.
Do you think the shirts are profiting from racism or are simply tasteless? Let us know in the comments section below.