Animal rescue staff got a shock when a 6ft snake was abandoned outside an RSPCA centre.
The boa constrictor was in a polystyrene box outside the front gate of the the South Godstone Animal Centre in Surrey, where a corn snake and three geckos have also been abandoned in the space of a week.
Supervisor Clare Hyre said: "We had no idea at all what was inside. Then, as we started to open the box up, this long tail shot out.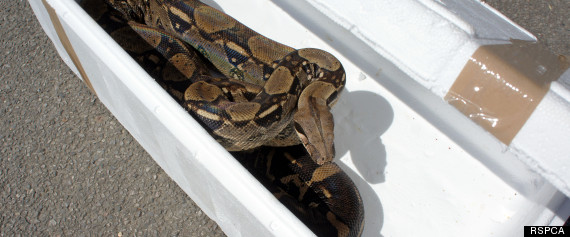 Staff got a shock when they opened a polystyrene box left outside their front gate - and found the boa constrictor inside
"I got quite a fright. In the 12 years I have worked here I have never seen anything like it.
"It was lucky that we found this snake when we did - the box could easily have been missed and she was lucky to be alive. There were no air holes in the box or the temperature controls needed to keep a snake like this healthy."
The boa is a female which can grown up to 10ft in length and live for up to 20-30 years.
The snake was transferred to the Patcham Reptile Centre in Brighton and now has a new home with a specialist keeper.
Keith Wells, manager at Patcham, said: "This boa was in good condition and had clearly been well looked after, but it seems the owner just was not willing or able to care for her anymore.
"People need to think carefully before taking on a pet like this. You can come across a boa in a pet shop and it's a tiny little snake, just 30cm long.
"But they get bigger and bigger until the owner suddenly finds they have a massive animal on their hands which they do not have space for.
"Lots of people tell me they suddenly get a bit scared of the snake when they grow as well."