Christine Ohuruogu ran a hugely a gutsy season's best but failed to reclaim the Olympic crown she so impressively captured in Beijing, finishing second to America's Sanya Richards-Ross in the 400m final on Sunday.
Ohuruogu flew down the final 100m to claim the silver, having looked out of the race after the first 300m, clocking a time of 49.70 seconds.
Richards-Ross clocked a time of 49.44 seconds.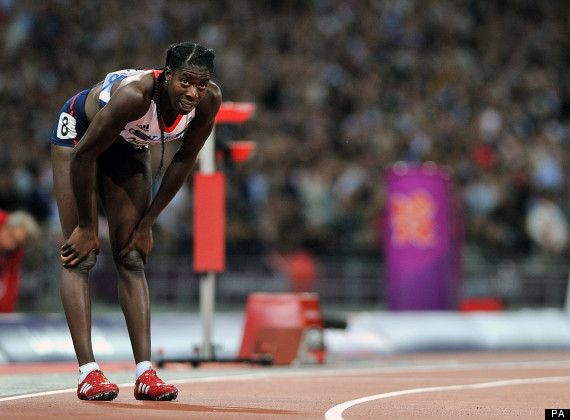 The 28-year-old got a huge ovation from the crowd
Despite finishing second, the crowd gave the 28-year-old a huge ovation as she left the track.
Running at the 2012 Olympics will be particularly sweet for the East London-born star, who grew up less than three miles from the Olympic stadium in the suburb of Newham.
Like Mo Farah, Satuday's British hero in the 10,000m, Ohuruogu is an alumnus of the Newham and Essex Beagles Athletics Club. Ohuruogu (second left) claims silver behind USA's Sanya Richards-Ross (second right)
The Brit secured her place in Sunday's showpiece final with a run of ominous quality on Saturday, qualifying with a season's best time of 50.22 seconds.
Although Ohuruogu was beaten in the race by the eventual Olympic winner, Richards-Ross in the semi-final, the Brit looked comfortable on the home-straight, doing only what was necessary to book her place in Sunday's denouement.
It was the Jamaican-born American who Ohuruogu beat to the line in China to secure her previous gold. Ohuruogu sprinted to second in the Olympic 400m final
In London, the placings were reversed, leaving Ohuruogu to content herself with the silver in front of her hometown crowd.
Elsewhere on Sunday, Ben Ainsle secured his fourth Olympic gold, winning the Finn class in the sailing, while Andy Murray gained revenge for his Wimbledon defeat, beating Roger Federer in the final of the tennis.