Conrad Readman had booked two weeks off work, with prized tickets for every day of the London 2012 Olympic Games - but the super fan has died after suffering a suspected heart attack while watching the cycling.
Mr Readman, from Colchester, watched the opening ceremony and many of Team GB's medal winning moments, and was in the Velodrome on Friday to watch Victoria Pendleton and the men's team pursuit.
But he was discovered ill in the venue toilets at 6.15pm. Mr Readman was taken to hospital where he died.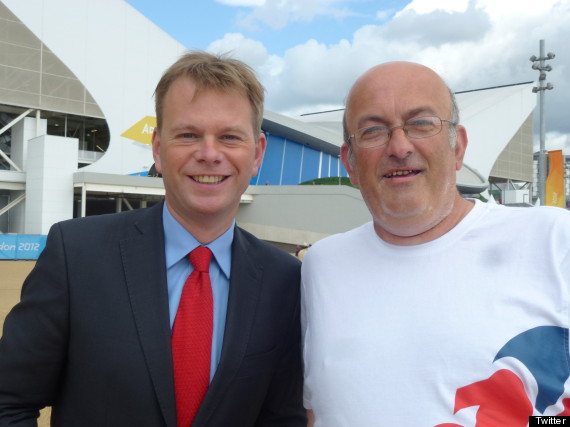 Conrad Readman, right, with BBC Olympics correspondent James Pearce
The chartered accountant lived with and cared for his mother, Joan.
She told the Colchester Gazette: "He had been looking forward to the Olympics ever since it was announced. There was never a day he was not excited about it.
"He was coming home every night so excited and telling me about everything he had done."
Mrs Readman added: "He had never had a problem with his heart and had not been to a doctor in 15 years.
"He died doing something he loved so I am happy he was where he was, but I can't watch any of it now."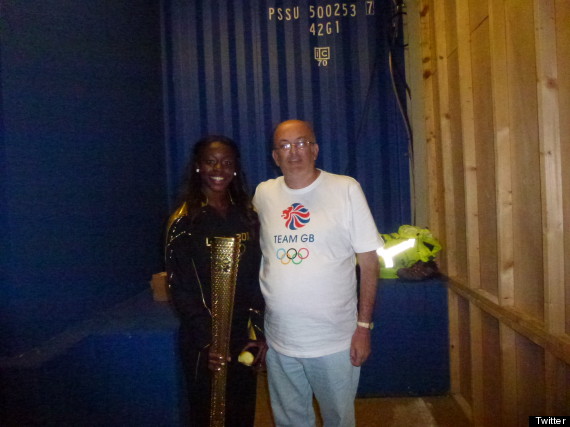 Conrad Readman with one of the final torchbearers Desiree Henry
Mr Readman had kept a lively Twitter account where he updated followers on his Olympic exploits and posted pictures with celebrities and athletes he had met during the Games, including one of the young athletes who lit the cauldron at the opening ceremony - Desiree Henry.
He described himself as "Spurs Fan, insatiable appetite for movie going, avid gig goer and music fan of almost all genres."