Victoria Pendleton took silver as she was defeated by Australian Anna Meares 2-0 in the women's sprint final at the London 2012 Olympics.
This was Pendleton's final race before retirement, but she was unable to add to her gold medal keirin win in the first week of the Games.
Watched by Princes William and Harry, Princess Anne, Seb Coe, Boris Johnson and a number of other royal and political figures, "Queen Victoria" as unable to end her reign on a high.
The final between two of cycling's biggest rivals was dogged by controversy after they both easily won their semi-finals.
Pendleton actually beat Meares by one thousandth of a second in the first sprint but was relegated for leaving her lane. From 1-0 up to 1-0 down, the 31-year-old now had to win the two remaining sprints to claim a third Olympic gold.
During the first interval, Great Britain cycling boss Dave Brailsford was seen to be involved in a heated exchange with Union Cycliste International, apparently over Pendleton's punishment.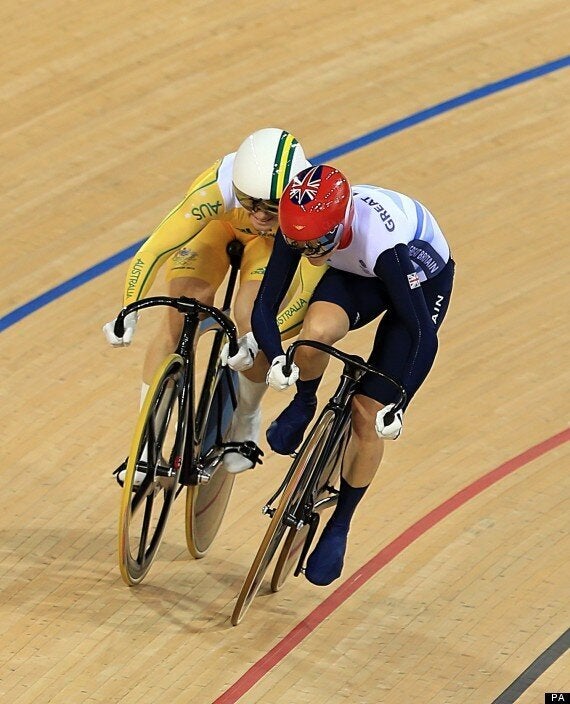 Pendleton and Meares make contact
In the second - and final sprint - Pendleton overeagerly embarked on a sprint uncharacteristically early before she was overtaken with ease by Meares.
A drained Pendleton told the BBC: "I'm so glad it's all done and i can move on. I think she (Mears) was the best rider in the field and everything turned out right. I'm glad to be saying it's the last time I'm going to go through that.
She was however "annoyed" at her relegation.
"She (Meares) touched me. I can't believe I've been relegated twice - it's unheard of. I can't believe it's all over."
Pendleton embarked on a farewell lap of honour before breaking down in tears after her final defeat. Meares meanwhile, looked genuinely shocked as she disheartened the partisan British crowd, as she won the Aussies their first track gold during these Games.
Related