Syrian rebels claim to have killed a Russian general they accuse of helping President Bashar al-Assad's forces, and say it is evidence Russia is deeply embroiled in the Syrian conflict.
Members of the Free Syria Army said they had killed Vladmir Petrovic Kojaiv - who had been working as a consultant to the Syrian Defence minister Fahed al-Freij.
But Russia media said that the General was not working with Assad's advisors - and did not even exist.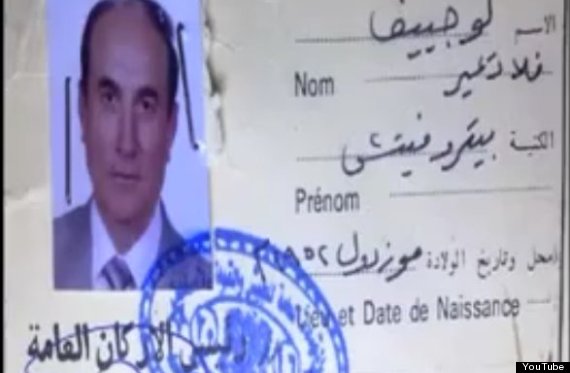 Documentation shown by an opposition lieutenant in a video where the Free Syria Army claim to have killed a Russian general
In a video released by the rebels, Lieutenant Majid Sayyed Ahmad said: "With the help of God, the Russian adviser for the minister of defense for military scientific affairs, General Vladimir Petrovich Kochyev, has been eliminated with his personal translator, Ahmad a-Ayyouq.
"A number of Syrian army documents have been also seized, together with reports about the opposition and the Free Syrian Army, adding to the achievements on the road to the liberation of Syria from the Assad gang."
The video clip included pictures of what was alleged to be the two men's identity papers.
But Russia Today reported that the Russian Embassy in Syria denied the FSA reports that Kojaiv had been working in Syria as an advisor - and a military source told the paper that Kojaiv "did not exit".
Russia is one of the few countries which is still offering diplomatic assistance to the Syrian government. Kojaiv is believed to have been killed around two weeks ago.
Meanwhile satellite images collected from the beleaguered city of Aleppo, released by Amnesty International on Wednesday, showed how heavy weaponry was being used close to family homes in residential areas.
A small nearby town, Anadan, had more than 600 craters caused by heavy bombing and fighting between the army and rebels.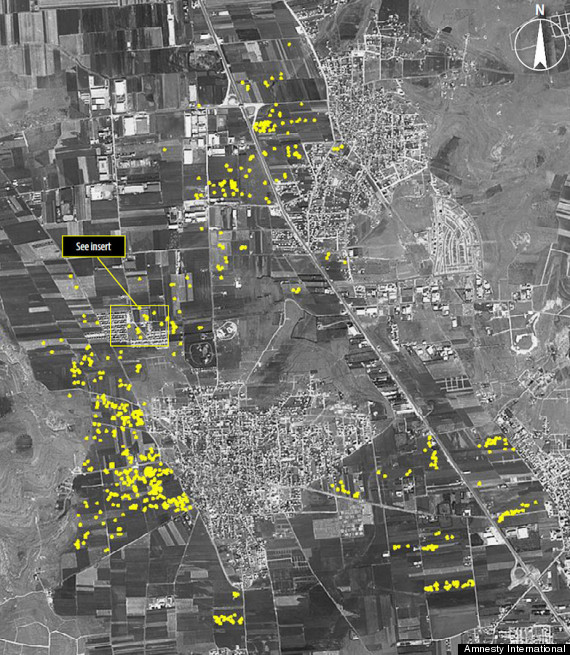 More than 600 probable artillery impact craters, represented here with yellow dots, were identified in Anadan, in the vicinity of Aleppo
Christoph Koettl, emergency response manager for the human rights charity, said: "Amnesty International is sending a clear message to both sides in the fighting, that any attacks against civilians will be clearly documented so that those responsible can be held accountable.
"Turning Syria's most populous city into a battlefield will have devastating consequences for civilians. The atrocities in Syria are mounting already.
"The Syrian military and the opposition fighters must both adhere to international humanitarian law, which strictly forbids the use of tactics and weapons that fail to distinguish between military and civilian targets." A Free Syrian Army fighter waves from the top of a destroyed army tank in the town of Anadan on the outskirts of Aleppo
Amnesty said both sides, the Syrian armed forces and opposition groups, could be held "criminally responsible if they fail to protect the civilian population caught up in this conflict.
"As fighting intensifies in populated urban areas, more and more civilians are being exposed to danger, including unlawful killings."
This week, two senior members of Human Rights Watch said the Europe had "failed to practice what it preaches" when it came to action in Syria.
In a report published by Clive Baldwin, senior legal advisor and Lotte Leicht, director of HRW's Brussels Office, the two accused the EU of faltering: "Faced with crimes against humanity and war crimes in Syria that show no signs of abating, Europe's commitment to justice has proved at best tepid and inconsistent."
They urged European States to refer war crimes committed in Syria to the International Criminal Court, claiming "this is the only realistic way for the court to get jurisdiction over the crimes being committed in Syria."
More than 17,000 people have been killed in the 18-month conflict.