Pete Reed is no stranger to victory.
He and his three team-mates romped to gold in the men's four at the Beijing Games in 2008, and so expectations this year were high.
And Reed, along with Andrew Triggs Hodge, Tom James and new-comer Alex Gregory, did not disappoint. The 31-year-old and his crew took gold in a thrilling race on Dorney Lake on 'Super Saturday', securing their place as one of the greatest fours in British history.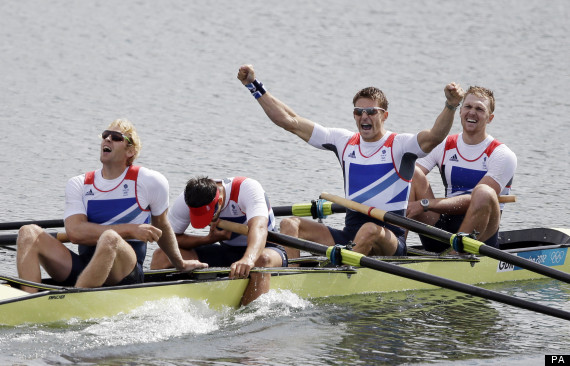 Great Britain's: from left, Andrew Triggs Hodge, Tom James, Pete Reed and Alex Gregory celebrate
On Thursday, the Huffington Post UK spoke to Reed about media pressure, the 'fifth man in the boat' and why losing is not an option.
During a post-race interview, silver medallist and double sculler Zac Purchase said he and his team mate Mark Hunter were "there to win gold, nothing else". Purchase, who had won gold in Beijing in the men's double sculls, said holding the silver felt "completely heart-wrenching" and "taking part is not what's it's about; it's all about getting medals for winning".
So does Reed, who was under the same pressure as the double to replicate his Beijing success, agree?
"Yes," he answers simply. "In rowing especially, everyone is fighting for gold all the time. No-one is saying we need to make a medal or we're racing for medals - you'd be way off the pace. It's about winning gold."
Although Reed offers his commiserations to the double, he suggests Purchase may have made it harder for himself.
"Zac will be disappointed for a long time because he had a lot of attention. He bigged himself up a lot and I think that's when it's easy to have a stumble.
"Pride comes before a fall.
"I think Mark's a bit more level-headed. He's very proud; he knows he won a silver medal and it's nothing to be ashamed of. If you put a big fight out, if you go there to put everything on the line and do what you can, which he did, and come away with a silver then you should be proud of that. We shouldn't be too hard on them. That's the best race they've had all season."
BBC sports commentator John Inverdale told the millions who had tuned in to watch the men's four final: "Out of all the Olympic races, out of all 17 days, this is the race to watch".
And, Reed says, he completely agrees.
"I think Inverdale's right. I think if I was impartial, I would really want to see the coxless four race.
"And as it happens, it was a real fairytale ending.
"We nailed our race, we led from the start, we moved away and we silenced all of the talk from Australia. They dished it out and we just took it and then it worked in our favour."
But Reed does reveal, behind the bravado, he is still human.
"I think if I'd known [Inverdale] had said that when I was sitting on the start line, ready to race, then maybe I'd have felt the pressure.
"The nation looks to rowers to perform. And more specifically, it looks to the coxless four to perform. For the past three years, the coxless four has been won by Britain.
"But the race wasn't a foregone conclusion where we just romp out and win. I think for spectators that's quite boring. I think you need the tension, the anxiety, the uncertainty, and that's why it made for such a good race.
"As it happens it shaped up to be a massive rivalry between the Australian's top boat and ours.
"I think we Brits are underestimated. We kept ourselves quiet and did our own thing whilst the Australians were talking whilst everyone else was talking, we were just getting on with it."
"I think for spectators that's quite boring. I think you need the tension, the anxiety, the uncertainty, and that's why it made for such a good race."
He explains the pressure he does feel doesn't come from the media.
"It comes from people's expectations, family's expectations and not wanting to let them down. Not wanting to let the crew down. It comes from stats like Jürgen's [Grobler, the crew's coach] unbeatable record. You don't want to be the people to break that chain and let him down.
"I didn't find any pressure from the media because, well firstly I didn't read it, and secondly, if I did hear something, it was just water off a duck's back.
"I've been around rowing long enough to know no-one really knows what's going on except for the people in the boat and the coach. People speculate, everyone's got their two-pennies worth on what we should be doing, how we should be training but I just have to smile and get on with my crew. Their opinions matter to me, my opinion matters, and that really is it.
"It sounds horrible, but that's sport.
"Everyone guesses and Andy and I have had a lot of fun over the last three years listening to what people have been saying, what people think we should do and we smile about it so there's no pressure from the media."
Steve Redgrave, who was commentating on the races, repeatedly described the crowds as 'fifth person in the boat'. But just how much did it mean to have such patriotic home support?
"I was absolutely blown out of the water by of the home support. At the 500m mark, when you're inside of the grandstand, it's just like you're rowing into the Colusseum or something, it's wild.
"And you know it's all for you. Everyone is shouting for Team GB, it's immense. You can't hear the boat anymore - normally you can hear the water, the oars as they turn.
"It was just silent rowing with this massive roar inside you, you can really feel it.
"It's very difficult to get tired - even though you're right at your physical limit, you find something extra. You think you can't let the crowd down, you can't make any mistakes. At the time, we were up and I thought 'we're definitely going to win'. It was great, so thanks to the crowd, they made such a genuine difference."
Runner Mo Farah was forced to fight back against accusations of being a "plastic Brit" - due to being born in Somalia. So how does Reed, who was born in Seattle, face up to such charges?
"Well, not very many people know," he explains. "I'm definitely very British. I don't think of myself as American at all. My parents are British, my dad was out there working for Rolls Royce when my mum was pregnant with me. I lived there for three years then scooted back across the pond.
"Everyone knows I'm British. I'm in the Royal Navy.
"I'm as British as it gets."
HuffPost spoke to Pete Reed at the London 2012 shop in Hyde Park.