An article published in the Daily Mail has suggested unemployed graduates adopt the Nazi's infamous 'Work will set you free' slogan which appeared above Auschwitz concentration camp.
'RightMinds' writer Dominique Jackson made the highly controversial comments in the Mail Online on 4 July but the newspaper has only just removed the offensive paragraph.
She wrote:
"The German slogan 'Arbeit Macht Frei' is somewhat tainted by its connection with Nazi concentration camps, but its essential message, 'work sets you free' still has something serious to commend it."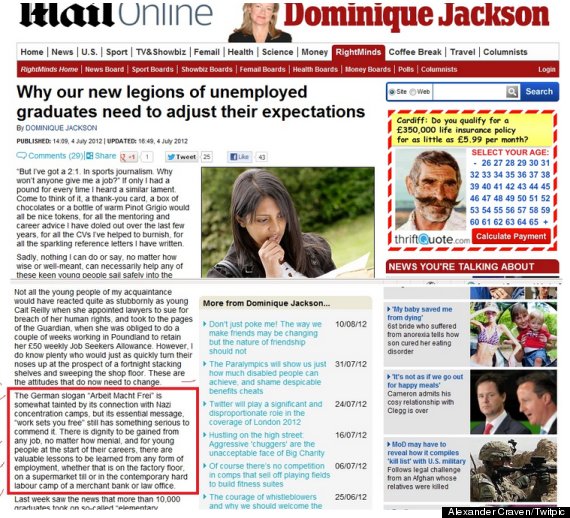 More than one million people died at the concentration camp in Poland, the largest established by the Nazis during World War II. Many were killed in the gas chambers while others fell victim to malnutrition and disease. Some were simply shot on the whims of prison guards.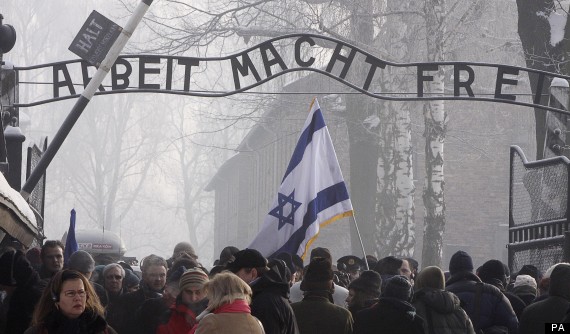 The notorious slogan guards the entrance to Auschwitz
Jackson continues: "There is dignity to be gained from any job, no matter how menial, and for young people at the start of their careers, there are valuable lessons to be learned from any form of employment."
The tasteless comment preceded another controversial piece that appeared in the paper, which slated the Olympics opening ceremony as "shameful propaganda", describing the portrayal of a mixed race middle class family as "absurdly unrealistic".
Author of the article Rick Dewsbury then used the bereaved family of Kane Gorny, who died of thirst in hospital, to further attack the ceremony.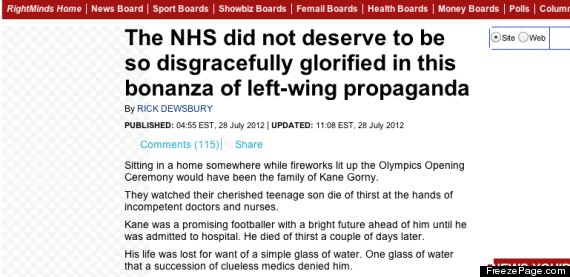 He added: "This multicultural equality agenda was so staged it was painful to watch.
"It is likely to be a challenge for the organisers to find an educated white middle-aged mother and black father living together with a happy family."
The article was taken off the Mail Online but a cached version can still be viewed here.
The Mail Online has removed Jackson's 'Work will set you free' comment from the article but has not offered any explanation or apology.
Following the article, Karen Pollock MBE Chief Executive of the Holocaust Educational Trust, said:
"The phrase Arbeit Macht Frei above Auschwitz's gate was a cruel lie to the millions who entered the camp, implying that if they worked hard they would have the chance to leave, when in reality their only way out was death - to use this in an article about the dignity of work in Britain today is inappropriate."
However Jackson informed the Huffington Post she had apologised and, following "extraordinary personal abuse" had "personally asked ed at Mail to amend offending par".