"Being passed around – that's what I remember from Edinburgh," says Anna Morris, smiling.
Sat in a Camden pub, five minutes after ending the second night of her Edinburgh preview show, the diminutive comedian recalls last year's festival, and particularly a game played by her friends in which the 32-year-old is unexpectedly scooped up and passed around the room, bar or street.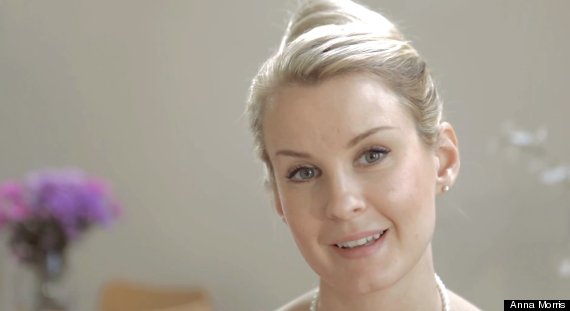 The bride is one of six character in Dolly Mixture, currently playing at the Voodoo Rooms
"It's not a great Edinburgh story," she concedes, clutching her wine.
A veteran of five festivals, I imagine there are others.
The curtain came up on the world's most famous comedy gala last week, featuring thousands of comics performing thousands of gigs, from household names to those taking their first and possibly last step on stage.
For many aspiring turns, a run in the Scottish capital is the ultimate gauge of progress. Do well here and you might "get seen". Very few do, but it's an essential part of any comedian's development.
"It's going to be my first solo show," says Morris, still visibly warm from the exertion of morphing into six different acts over the course of the previous hour. The show boasts a dark and disparate medley of characters, all inhabited by the solo act over the course of an hour.
Character comedy it is, but characters that are so clear, so distinct that it's hard to reconcile the small, softly spoken woman in front of me with the person who dominated the stage - as well as much of the audience - for the past 60 minutes.
"I started work on the current show in October last year when I came up with the first character, the bride," says Morris. "I performed 'her' a couple of times and it went really well, so I decided to do an Edinburgh show. She was originally the central character."
Georgina the bride, a snooty pastiche of a women marrying for attention in "August this yaaar", proved so popular on stage that Morris took her creation online, posting a YouTube video, which quickly racked up more than 35,000 hits. Several more wedding blogs followed.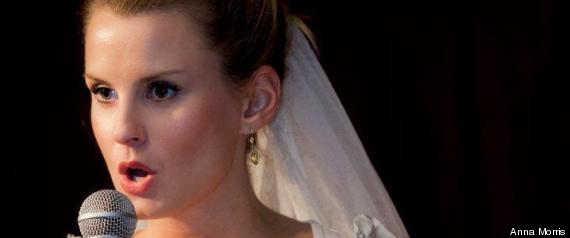 Georgina on stage talking the audience though her wedding plans
"I didn't think anyone would watch it," she admits, "but they did". So convincing was the character that some viewing the video thought 'Georgina' was real.
One even failed to grasp that it was an act, posting: "This video is so fake..."
VIDEO: Scroll down to watch the bride, Georgina
Having decided on a solo show and buoyed by the online success of the character, the concept quickly grew to include several more, including a comically nervous first time open-mic performer (which Morris mischievously starts with, leaving you unsure as to whether it's an act or real).
Then there is the "glass-half-full" northern stewardess on a budget cruise liner and the gruff feminist author looking to recruit a fleet of "bitchelors" by having them cut off their ring fingers, the latter playing like Mrs Havasham pumped on steroids.
Each character is given a full 10-minute burst, with the change over cleverly worked in through recourse to a vanity table and an array of wigs, makeup, eyelashes and even longer eye lashes…
The breadth of the performance is remarkable, from the subtlety of the bride (admonishing the crowd with nothing more than a glance), to the far less delicate but equally funny dénouement in which Morris is left writhing in the floor, her face covered in multiple layers of "age-defying" stocking.
The comedian is performing 21 shows during her run in Edinburgh; a stint she hopes will give her confidence "as a solo performer", as well as gain some "industry recognition".
"I've been doing this for a long, long time," she says, recalling a start in comedy at Warwick University more than 10 years ago. "It would be nice to get some work off the back of it," she says.
It's a familiar hope for most performers at the Fringe.
Still, Morris looks happy with her evening's work and rightly so. "Over the past two nights the Camden audiences seemed to have really enjoyed it," she says, finishing off her wine.
Audiences in Edinburgh will no doubt agree.
See Anna Morris perform Dolly Mixture at The Voodoo Rooms, Edinburgh at 15.55 every day until 26th August.
For more information visit the web site www.annamorris.co.uk