We're sure we're not the only ones a little sad that the Olympics are over this morning. But thankfully, we're reliving Team GB's greatest gold-medal winning moments with these awesome Lego versions of our brilliant athletes.
Lego-lovers Savage Steel Minifigs have been on what they call a "slippery slope" of athletic creation over the past two weeks, as Team GB kept winning, and winning, and winning.
Speaking to HuffPost UK Culture, Caroline, a scientist in the MRC-CDBG at the University of Sheffield said that their Sheffield background and a love of local girl Jess Ennis sparked the desire to recreate the athletes in Lego.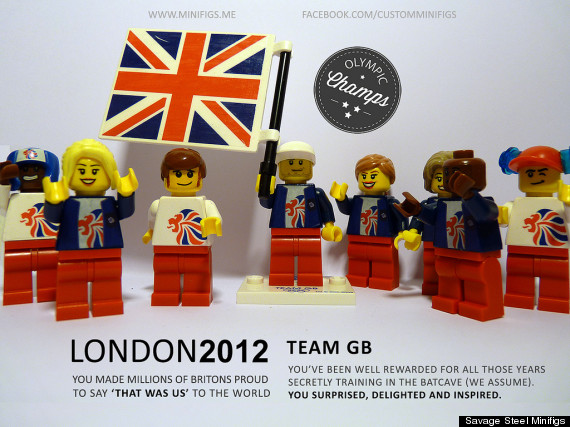 Members of Team GB ahead of the (Lego) Olympic Closing Ceremony
But it wasn't just Ennis who won Gold, and since everyone from Bradley Wiggins to Laura Trott has got their own little mini-me. Some, it would seem, like them almost as much as their medals.
Caroline says, "Kate Copeland was really pleased with hers - she Tweeted us to say she'd told her mum she was now made out of Lego!"
"And Andy Murray's mum Tweeted about his minifig, so we've got a soft spot for him now"
Caroline says that Tae Kwon Do medallist Jade Jones was one of the most challenging to create - and is secretly relieved that Tom Daley didn't take gold, as his uniform didn't pose much of a creative challenge.
We love these minifigs - if you want to see more, check out Savage Steel's Facebook page.