One Direction have released a video of themselves singing an acoustic version of Oasis' hit song Wonderwall.
With Niall Horan strumming his guitar for the track (the role originally played by Noel Gallagher) and the boys all providing vocals, they've produced a romantic but less mature sounding cover of the Oasis classic... teenage hearts will implode everywhere.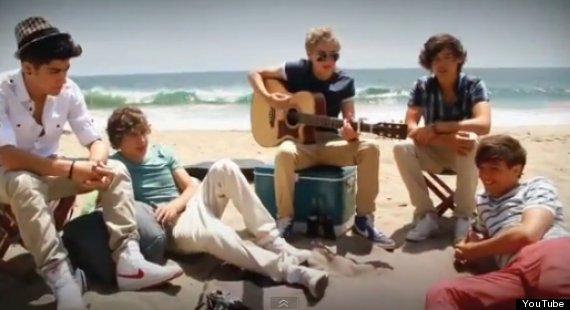 The performance is thought to have taken place on the set of One Direction's video for What Makes You Beautiful.
One Direction are currently working on their second album, which has yet to be given a title.
It was released on Tuesday night, around the time Noel was on stage ribbing his brother Liam for singing the track at the London Olympics closing ceremony. Noel, who wrote the song, called his brother's band "Stratford's finest Oasis tribute".
Take a listen above and let us know which one you prefer - One Direction's Wonderwall or the original.
One Direction's Road To World Domination