Thousands of students have been left in the dark as to whether or not they have been accepted into their chosen universities, after several Ucas blunders, the Huffington Post UK has learnt.
The errors, which have been denied by Ucas, meant universities were unable to offer or reject students, according to conversation forum The Student Room.
Managing director Jason Geall told us: "From feedback we have had from students and universities it has definitely been the case that there have been problems with the Ucas universities applications management system [the method universities use to confirm or reject places].
"There are instances occurring today where universities have been unable to make offers or turn down students. Students have been stuck in the "conditional" stage, where they don't know if they have got into a university or not.
"If they have got in to university, then they are none the worse off, but for those who were eventually rejected, they are hours behind others who found out the status of their applications straight away.
"If they had had their offer rejected straight away, they could have been ringing up other universities for spaces immediately. One way or another, there is every chance that the two or three universities they might have been accepted into this morning would have already given away all their clearing places."
He added: "There is a lot of uncertainty. At 8am this morning, there were 79,000 students who were in the conditional stage.
"Ucas have not been alerting us to this problem - and we need to be able to give feedback to our students.
"It is difficult to put a finger on the actual number of students affected but the problems definitely slowed the process down. I would say it certainly affected thousands of students."
Bart Williams told us via Twitter:
One evidently distressed student wrote on TheStudentRoom forum: "UCAS Track hasn't updated for me yet, both my offers are still conditional. I really wanted to get everything sorted today!"
While others complained:
den-leende-stjärna:
"Ahhh! Do you think that the problem will be fixed today? Even though I have met the conditions of my offer it still makes me anxious having to wait for track to tell me I made it"
Farooq182:

"This is what I got when I tried logging on to track:

'The system that you are attempting to access is currently busy. We apologise for

any inconvenience. Please try again later'."
Sockhead:
"Missed my offer by a smidge - stuck in limbo now, track hasn't updated since receiving offers way earlier in the year!"
Another wrote:
"I missed the grades for my firm choice so it says unsuccessful. However, as far as I know I have met the entry requirements for my insurance choice. BUT my current status still says 'You have accepted an offer' and next to my insurance choice it says conditional-firm.

what should I do?!"
And even universities started to show the strain: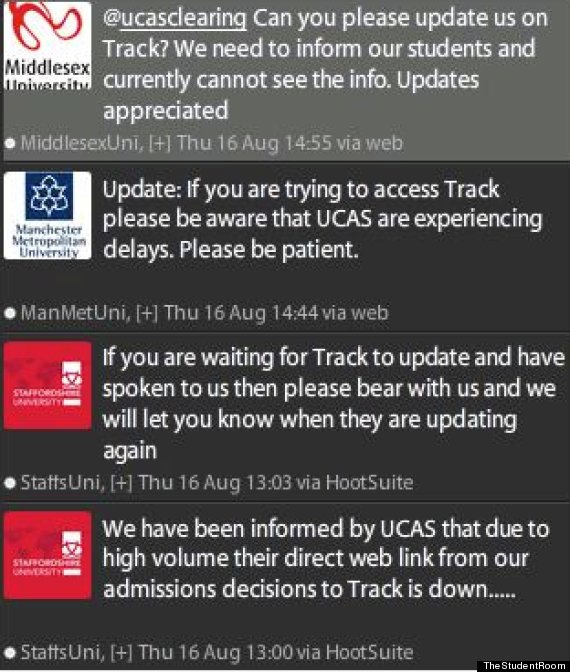 When asked if there had been any problems with the universities applications management system, a spokesperson for Ucas said: "No, I wouldn't say that."
He added: "Track is fully functioning, We needed to refresh parts of the technical support."
Ucas later released an official statement which read:
"Track is fully functioning and has been all day.
"We needed to refresh parts of our HEI technical support this afternoon and the refreshed system is running normally.
"This meant that a very small number of decisions took slightly longer to show on the screens than usual but everything is working well and Clearing opened as planned at 17:00."
Nicola Dandridge, Chief Executive of Universities UK, said: "Results day is a stressful time, so we were very concerned to learn of the disruption to the UCAS service yesterday, and I sympathise with anyone who has encountered problems.
"UCAS has confirmed this morning that they have now restored a full service and that the offers and acceptances procedure for students in Clearing is now working effectively."
Have you had any problems? Let us know in the comments section below.