Prince Harry has taken on American Olympian Ryan Lochte during a boozy 3am pool party in Las Vegas.
The young royal was in Sin City for a weekend break, having completed his first official overseas tour and fulfilled his role as an Olympic Ambassador.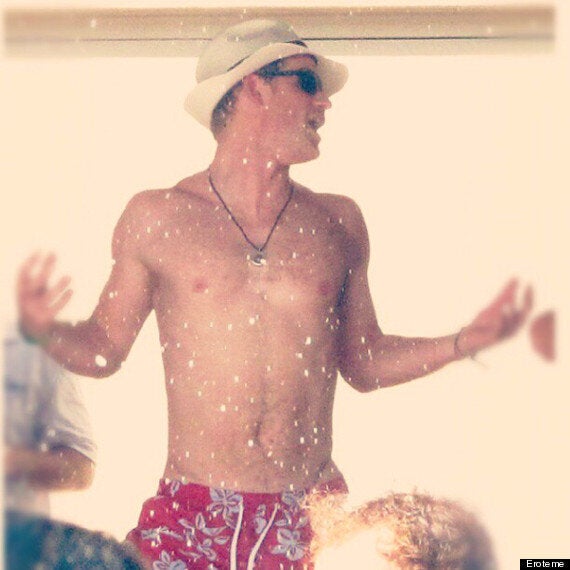 Hope he's wearing suncream: Prince Harry bares his pasty torso in Las Vegas
Predictably, Lochte won the race, "raising both arms in victory and hugging Harry amid 5,000 fellow revellers."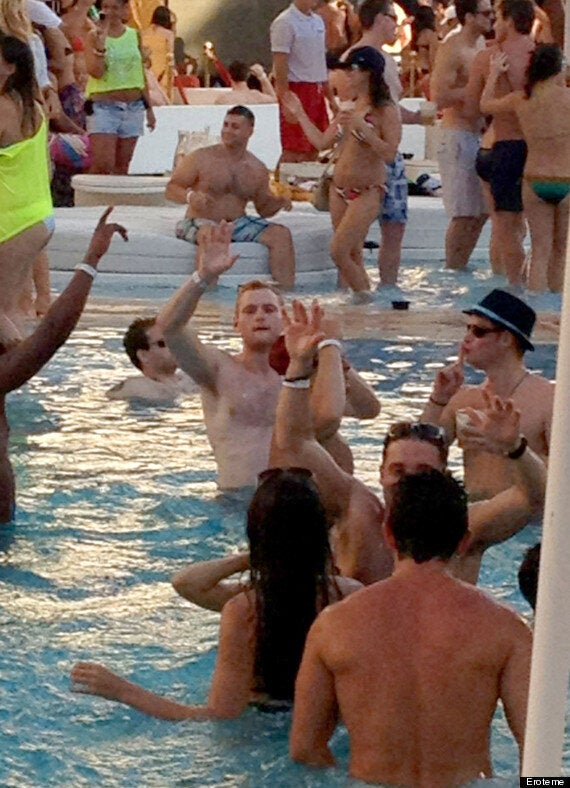 Shhh: The Prince (right) puts his finger to his lips in this pool party snap
Video of the Prince at the MGM Grand's Wet Republic also emerged on Extra TV.
Clad in magenta Hawaiian print board shorts and a floppy hat, the Prince is seen chatting with friends as bikini-clad women trot back and forth.
"He was just wearing his swimming trunks and was getting quite a bit of attention from the ladies!"
The prince has previously enjoyed a weekend in the city during his helicopter training in America last year, and it's not the first time he's taking on an Olympian either. The challenger in action with Usain Bolt earlier this year
After getting ready to race Harry bolted out of the blocks on a false start, but raced to the winner's tape and claimed victory.
Bolt, 25, immediately called for a rematch against the third-in-line to the throne who side-stepped the issue.
"He cheated," Bolt later explained. "I said we would have a rematch in London 2012 and Harry said 'I'm busy'."
PHOTOS: Harry's Caribbean tour as part of Queen Elizabeth II's Diamond Jubilee