A prototype hydrogen-powered narrow gauge locomotive has been designed, built and tested by a group of university engineering students and staff.
Hailed as the first of its kind to operate in the UK, the University of Birmingham's hybrid train operates using a 5,000-litre hydrogen fuel cell combined with lead acid batteries.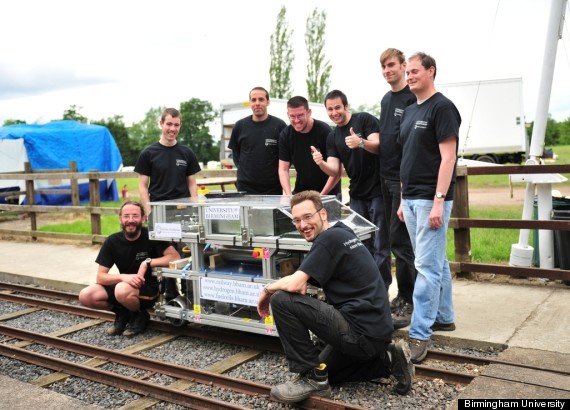 (from left, clockwise) Peter Fisher, Jon Tutcher, Hamed Rowshandel, Duncan Coombe, Mani Entezami, Rory Dickerson, Andreas Hoffrichter and Stephen Kent
The fuel cell is used both to power the permanent magnet electric motors and to charge the batteries, with the batteries helping to meet the peak power demands during acceleration.
The advanced cell, which has already been successfully deployed by the University on a canal barge, exceeded expectations when the locomotive was tested on Leicestershire's Stapleford Miniature Railway.
Dr Stuart Hillmansen, from the University of Birmingham's School of Electronic, Electrical and Computer Engineering, said: "Our hydrogen-powered locomotive is a clean and efficient example of how hydrogen power could work for future trains on non-electrified routes.
"We hope that our efforts will encourage the rail industry to take a closer look at this exciting technology."