He's worn a Nazi uniform, made racist comments, and now Prince Harry has been pictured in a naked clinch with a mystery blonde in Las Vegas.
The shots have sent ripples of shock and titillation across the internet, but have only gone as far as to prove one thing: that the 27-year-old royal is seemingly untouchable.
Reaction on social media shows that Britain and the rest of the world are still in love with the cheeky Prince.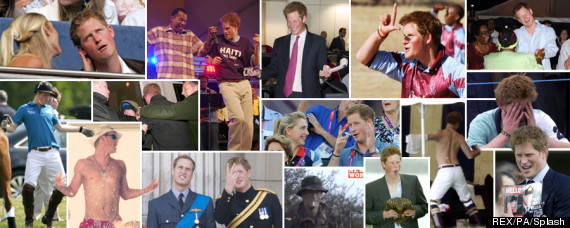 Britain has watched Prince Harry grow up beneath the watchful eye of his sterner older brother
"People like him for the fact he's normal - an approachable royal," said Chris Goodman, Music Director at Outside Organisation who has represented clients such as Led Zeppelin, Spandau Ballet, and Jon Bon Jovi.
"He's allowed a lot of licence by a lot of people.
"There's bias because he's male perhaps. If he was a female royal his behaviour would perhaps be viewed as worse. Prince Harry is well-loved by the British public for his 'cheeky chappy' persona
"In terms of royal history this has happened throughout the centuries, it's just everyone has a camera phone now.
SEE ALSO:
"I don't think the British public will begrudge him a week's holiday. He has a proper job and he works hard. He's respected for being in the army and he's got his own charity."
Prince Harry is patron of the Walking With The Wounded charity, and is a prominent supporter of ABF The Soldiers' Charity and Help For Heroes. He has received a humanitarian award for his charity work and co-founded the charity Sentebale to help orphans in Lesotho. Africa. Prince Harry's solo royal tour to Jamaica garned the young royal a host of admirers
Public relations expert Mark Borkowski also believes the Prince is a victim of circumstance.
"Clearly he's just a young lad having fun and he's been stitched up royally by a pal," he told the Huffington Post UK.
"He's got drunk and hung out with some ne'er do well bounty hunters.
"He does know better, I was at an event with him three weeks ago and he seemed very self aware. However when we have a drink we all do things we regret." Prince Harry receiving his Flying Wings from his father, the Prince of Wales, during a graduation ceremony. Prince Harry is an Apache helicopter pilot in the British army.
St James's Palace confirmed it was Harry in the pictures but declined to comment further.
A source said the prince, an Army officer and Apache helicopter pilot, was just "letting off steam" before the next important phase of his military career.
Unlike his brother, Prince William who has a squeaky clean image, Prince Harry has long been known for being the 'naughty one.' Harry is well known for playing up to the cameras
This is one reason that Borowski and Goodman insist Prince Harry doesn't need a PR offensive to tackle the shots. As Goodman says: "There's nothing as bad as wearing a Nazi uniform."
He said: "Then, there were apologies and it was tried to be made clear that he's young and foolish."
"Other factors have been emphasised too, for example his service in Afghanistan. He's been cast in a heroic light, as 'one of the boys' along with his army friends."
However Jules Stenson, former editor of News of the World and PR executive, described his behaviour as "very inappropriate" and told the Huffington Post UK that the pictures will have "huge implications" for the Prince.
"Ten days ago he was the sole global ambassador at the Olympic ceremony, representing Britain in place of the Queen, and today pictures have been leaked of him clutching another naked woman in Vegas.
"It's hugely inappropriate he's in Vegas in the first place, He's there accompanied by royal bodyguards who are paid for by the taxpayer. These pictures will have huge implications for him. "
Stenson's gripe over taxpayers' funds was echoed on Twitter: however many were offering a laddish 'pat on the back' to the Prince
"Harry needs to grow up fast, he's not a playboy prince, he's third in line to the throne."
He's a serving soldier and not beyond reprobation. I think his father will be having some very harsh words with him today
However some of Prince Harry's gloss appeared to have rubbed off on Stenson too, with the PR exec adding:
"British public love Harry and for a good reason, he's an incredibly brave man and he's served in Afghanistan, and when he's on form he's a brilliant ambassador."