When you read the hurtful comments made about Rebecca Adlington by the likes of Frankie Boyle, you wonder how she manages to put on her swimsuit and represent her country in the way she does. But speaking to her, you soon realise she is a woman wise beyond her tender 23 years.
"It's just one of those things of being a woman," she told Huffpost Lifestyle.
"Regardless of being in sport, women are criticised in a very different way to men.
"By what they dress like, their hair, their makeup, their everything. It kind of comes with the territory really."
Like many of us, Rebecca hopes the London 2012 Olympic Games has had a positive impact for women.
She's proud that female athletes have firmly established themselves alongside men in sport - with Team GB's women racking up 10 gold medals in total - but is conscious of the added pressure on sports women around their appearance.
Still, ever positive, Rebecca hopes that the female athletes have provided a healthy body image for women and girls to aspire to, by being "slim but in the right way".
She looks to Team GB teammates Jessica Ennis and Victoria Pendleton, who she describes as "absolutely stunning" to prove to women and girls that "you can work hard but still be girly".
"For me my way of being girly is by painting my nails, because I can't obviously wear that much makeup or do my hair - it just gets wet," she jokes, although patriotic nail art became something of a trend during the Games. Rebecca's brightly coloured nails during a 400m freestyle heat at London 2012
Rebecca doesn't appear to consider herself in the same 'attractiveness' category as Jessica and Victoria, and, despite being as successful an athlete with two Olympic golds, two bronze medals and a World Record under her swimming hat, seems somewhat reluctant to call herself a role model.
This is probably due to the fact that she is extremely humble: instantly warm and friendly she introduces herself as Beck, dismisses any rumours of a big welcome home party for her when she returns home to Nottingham and says she's happy to train in her local 25-metre pool because "water's water at the end of the day".
Her down-to-earth demeanour has allowed her to shrug off criticism by internet trolls over her performance in London 2012 - taking bronze medals in 400m and 800m freestyle events, after she won golds in the same events in Beijing 2008.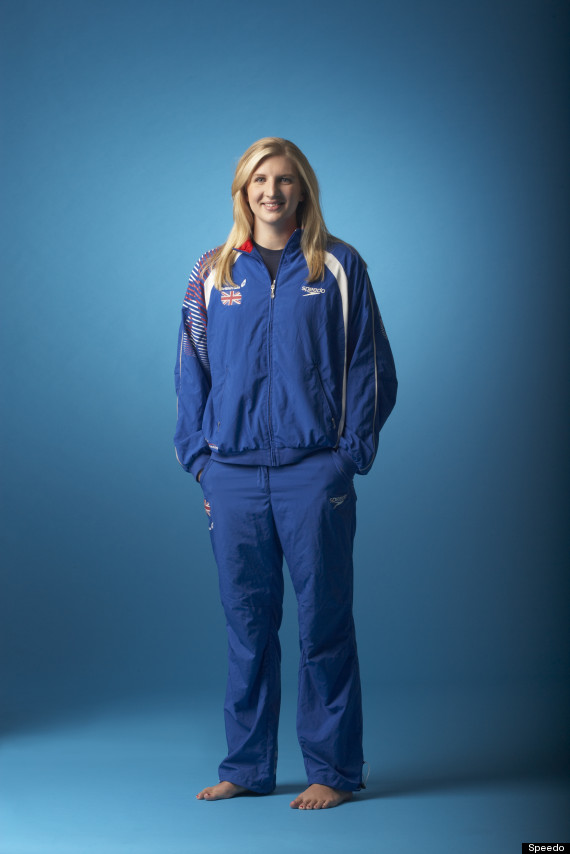 Water's just water for humble Rebecca
"I just block those people," she says frankly. "I just can't understand why someone would take the time to write a nasty message. It baffled me. I'd never do it to someone else, I wouldn't even do it to my worst enemy."
It's difficult for people to pass judgement on something they have never tried themselves, she adds.
"I mean if Michael Phelps came up to me and said 'you should be a bit let down by that' I'd be like yeah. But he never would," she jokes, putting yet another positive spin on something she could easily let get her down.
Best Olympics Photography
So with two Olympic Games behind her, what's next for Rebecca?
She cooly dodges responding to rumours about her retirement from swimming (unable to confirm anything until she's spoken with her coach) and an appearance on Strictly is off the cards for now at least as she's busy training for a charity bike ride for Sport in Action in October.
One thing's for sure, sport will always play a big part in her life: "I couldn't imagine doing anything else," she says.
Having learnt to swim at four years old and joining NOVA swimming club at nine, swimming and sports have always been important to her.
She has high hopes for the legacy of London 2012, willing it to encourage people to be more active. Ever the humble sportswoman, she says: "If we can inspire one person to get involved in sport, it'll make a huge difference to sport and it's been worth it."
Rebecca Adlington wants to use the legacy of the Olympics to inspire people to swim and is working with Speedo on a number of grass roots swimming events such as Swimathon and the Speedo Open Water Swim Series which are aimed at encouraging people to take the plunge and get into the water'.