The Foster's Comedy Awards shortlists were were revealed on Wednesday, and when the nominees gathered together on Thursday, there was a lot of love - as well as talent - in the room. Not least because many of the nominees aren't just contemporaries, but mates.
"It's great to be among all my friends - I feel genuinely in awe of what they're doing," said Josie Long, whose wonderful show Romance And Adventure is up for Best Comedy Show (read our short review here). "I'm just so happy to be part of it - I know it sounds cheesy, but it's true."
Her words are echoed by Tom Parry of the sketch group Pappy's, who are also up for the Best Comedy Show. "It feels like a very special year for us because all the other nominees are friends - and fantastic," he says. "The fact that Claudia O'Doherty is on the list meant everything - it's the best thing I've seen at the Fringe for years - and it's so great to see Tony Law on there, too. Plus James Acaster, Josie Long... The list is full of friends and it's just so lovely."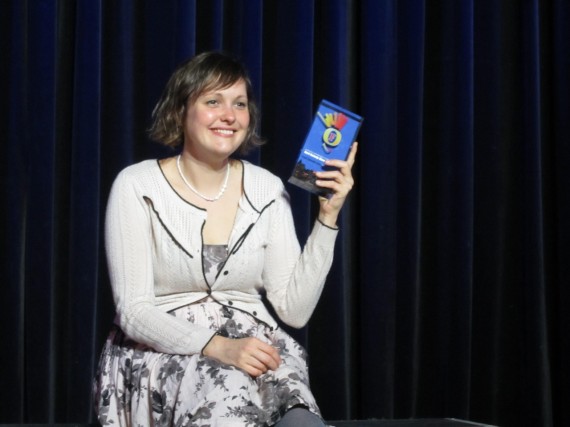 Third time lucky? Josie Long, Best Comedy Show nominee
And Claudia Doherty herself repeats the sentiment, saying: "It's so nice to be nominated with all my friends." And did she see her nomination - for her acclaimed show The Telescope - coming? "Not at all," she says. "It's very exciting and very shocking - I genuinely had no idea that any of this was going to happen."
Best Newcomer nominee Joe Lycett was similarly "shocked and obviously delighted" to make the shortlist. But then, his whole Edinburgh run has been something of a lovely surprise. "I've been spoilt I was expecting to be stressed, or panicked, but it's been none of those things," he told us. "It's been so relaxed, and the audiences have been great."
His fellow nominee David Trent - whose loud, hilarious show Spontaneous Comedian revolves around a set of pre-prepared video clips and slides - said that he was a "lucky boy" to be nominated. "I just do what I do," he said, modestly. "I haven't really got any other choice. I can't do straight stand-up with a microphone, it's much too difficult. I find this is the way to do it."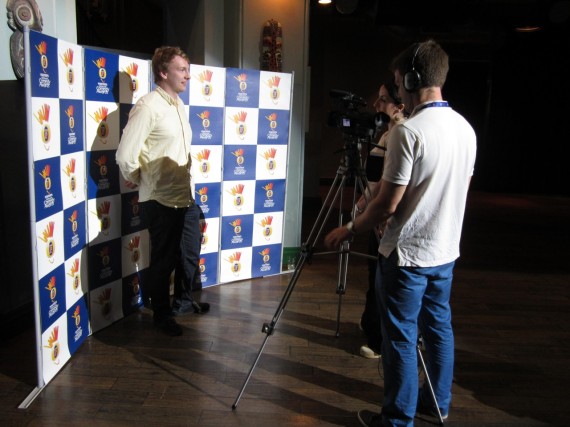 Best Newcomer nomine (and Huff Post blogger!) Joe Lycett
And whether they win or not, all the nominees are clearly grateful for the recognition they're now getting for all their hard work. Pappy's have been garnering five-star reviews across the board for Last Show Ever!, and as Tom Parry says: "It's taken us six shows to make the best show we've ever made. We knew we had something that was special to us and that we were really invested in. We worked really hard on it, harder than we've ever worked - so it means everything to have this recognition."
But, adds fellow Pappy's star Matthew Crosby: "The nomination is lovely, and important, but we already had the best reward - performing a show we really loved, and people getting excited about it."
And while Pappy's may be the ones to beat, plenty are wondering whether Long - who's made the shortlist for the past two years, and won Best Newcomer in 2006 - finally triumph in the main award this year. "It's my sixth Edinburgh show and I do feel like it's the best show I've done," she admits. "So I'm really, really happy to be nominated. But I've already had it where I've been nominated twice and didn't win it - so I'm fine with that. Whatever happens is cool. This more than enough for me, to be amongst my friends."
Meanwhile, in other Fringe news...
Lady Riso has won the first Edinburgh Fringe award dedicated to cabaret; David Hasselhoff got a parking ticket; the Underbelly is set to become a year-round arts site; and in an amazing feat, the Belfast Telegraph has rounded up not the top 10 jokes but the top 100 from this year's Fringe. Good work, guys!
And in the latest photos...
Street performers dominate the Royal Mile, the MacDonald's festival opening times are revealed, we find the best beer mat in the world... and more: