A woman has admitted failing to seek veterinary attention for her dog who had to be put down after swallowing an electrical plug and cable.
The English bull terrier, named Henry, was put to sleep because by the time he saw a vet he could not be treated, the Scotland Charity for the Welfare of Animals (SPCA) said.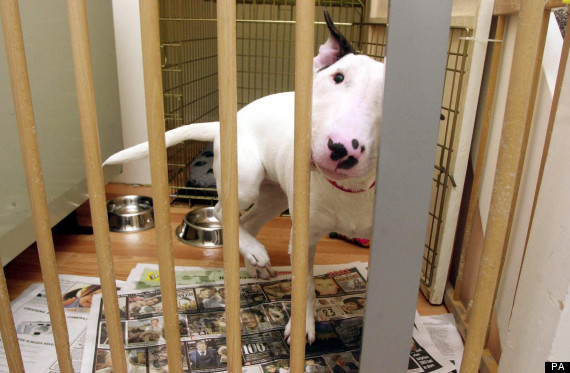 The English bull terrier (similar to the one pictured above), eventually had to be put to sleep
Janette Milne, 28, from Inverness, pleaded guilty to causing unnecessary suffering at the city's sheriff court and will be sentenced next month. She was prosecuted following a Scottish SPCA investigation.
Senior inspector Gill MacGregor said: "Henry was in extremely poor condition when I visited Milne's property in August 2011 and after being taken to a vet, an X-ray revealed he had ingested an electrical plug and cable.
"Milne had failed to seek the veterinary treatment Henry desperately needed and, as a result, he was caused a great deal of pain and suffering.
"Unfortunately, Henry's condition was so advanced that the vet had no option but to put him to sleep.
"It is now up to the court to decide on an appropriate punishment for Milne."
Milne was prosecuted under the Animal Health and Welfare (Scotland) Act 2006, s.19 (2), which states:
A person who is responsible for an animal commits an offence if—
The person causes the animal unnecessary suffering by an act or omission, and
The person knew, or ought reasonably to have known, that the act or omission would have caused the suffering or be likely to do so.