Prince Harry enjoyed a naked fumble with a woman in a hotel room during his infamous wild night in Las Vegas.
Carrie Reichert has told The Mirror newspaper she spent 20 minutes alone with the prince in his hotel bedroom.
And she claims earlier in the night the naked royal pressed himself up against a hotel window to show off the royal crown jewels.
She told the paper: "We kissed, he was naked at the time, and pretty open. It was a drunken fumble. It wasn't romantic, just fun. He was a gentleman, but he was so wasted. The alcohol affected him. I was there for 15 to 20 minutes."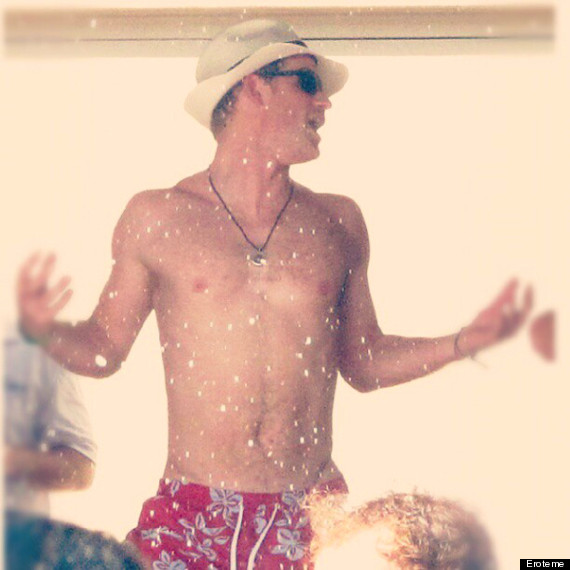 Prince Harry parties in Vegas
Sensational pictures of Harry playing strip billiards at the £7,000-a-night Sin City suite have been beamed around the world.
Reichert claims she was approached by Harry's entourage and asked if she wanted to join his penthouse party.
She said: "We all went up to this huge VIP high-roller suite, and went in and the music was going, alcohol was flowing. Harry was already undressed. It was just crazy. He looked actually delirious. There was a pool table and he was ­playing air guitar with pool sticks.
"He was screaming out, 'Somebody get me a glove! I'm going to do a Michael Jackson impression!'
"He would just randomly walk up to you and hug you. He was just really friendly and there were just really ­random naked hugs. It was funny."
She adds: "Girls were getting naked, he was screaming out, 'Everybody get naked!' Just randomly doing crazy stuff.
"He was pressing his body up against the window and saying, 'Look at me Vegas!' because he's got this huge ­window and of course you can see all of Vegas down the strip. Just pressing up against the window just like, 'Look at me Vegas, these are the royal jewels.'"
She said Harry led her to the bedroom while the other guests partied in the living room, recalling: "There was not very much talking at that time, his clothes were off. I had a bikini on. A string bikini. I had a party dress over that, and that came off.
"We kissed for 15 to 20 minutes. I am sure somebody ­stumbled in as there were people going in and out of rooms all the time. We kissed again and he said, 'That was great.''
"He told me I was beautiful and ­gorgeous, which was sweet. Then we kind of nonchalantly returned to the party and kept drinking."
Harry is an army helicopter pilot and has received a dressing down from army top brass and senior members of the royal family over his drunken antics.
Reichert said: "I understand he is royalty and his family looks on it harshly and as a royal you have to conduct yourself a certain way, but he was having fun."
> PICS: Prince Harry wearing clothes!
Prince Harry Through The Years!
> WATCH: CATCH UP ON ALL THE LATEST CELEB GOSS