Police are treating the deaths of man and woman whose bodies were found in a river after a search as unexplained but are not looking for anybody else in connection with the inquiry.
Officers cordoned off a stretch of the River Bure between Wroxham Broad and Salhouse Broad, Norfolk, after a 13-year-old girl was found alone on a rented boat on Saturday.
They found the bodies of the couple in their 40s, from Surrey, in the river on Sunday.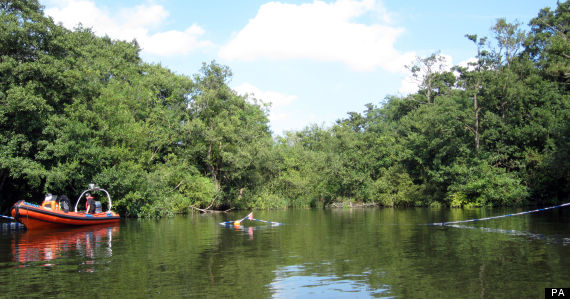 Police at the scene on a stretch of the River Bure between Wroxham Broad and Salhouse Broad
Detective Superintendent Jes Fry, of the joint Norfolk and Suffolk major investigation team, who is overseeing the investigation, said: "We continue to investigate this tragic event.
"Our main consideration is the welfare of the 13-year-girl and whilst I cannot speculate on the circumstances surrounding the deaths before I have received the results of the post mortems, initial investigations confirm that we are not looking for anyone else in connection with the incident."
The woman is believed to be the girl's mother while the man was described as her partner.
The coroner has been informed and Home Office post-mortems are being carried out to establish the cause of death.
The search began after a member of the public realised a hire boat had not been returned.
Police later found the boat moored to a tree near Salhouse Little Broad. A 13-year-old girl who was discovered on board was unharmed.
The girl spent the evening in protective police custody and has been informed of the developments. She is currently being comforted by relatives.
The boat has been recovered and returned to a boat yard at Horning where it will be examined.
Specialist river police remained on the scene today and police tape prevented pleasure boats entering the shallow inlet where the boat was moored.
The area is an isolated spot with no official mooring. It is surrounded by forest and marsh with no foot access.
The deepest point of the river near the inlet is about 10ft and the area is largely clear of weeds and underwater obstacles.
Pleasure boats returned to the area this afternoon as tourism got back to normal.
The boat was recovered and returned to the Le Boat base in nearby Horning.
A spokesman said: "Le Boat can confirm that one of its holiday cruisers was involved in the tragic incident on the Norfolk Broads this weekend.
"Le Boat contacted the Broads Authority at 5pm on Saturday evening to alert them that a hire boat had not been returned to the site. A search was subsequently launched of the surrounding area.
"Le Boat continues to cooperate fully with the police in their inquiries. As the investigation is ongoing, we cannot comment further on any details regarding this incident.
"Our thoughts are first and foremost with the family involved at this distressing time."