President Francois Hollande has said authorities will "do our utmost to find the perpetrators" following the brutal deaths of four people - including three members of a British family - in the French Alps.
Mr Hollande, making his third visit to the UK today, joined David Cameron in pledging to get to the bottom of the tragedy.
The Prime Minister described the deaths as "terrible", adding: "I have spoken to the British ambassador in France and consular staff are working very hard so that we do everything we can... and to find out what happened in this very tragic case.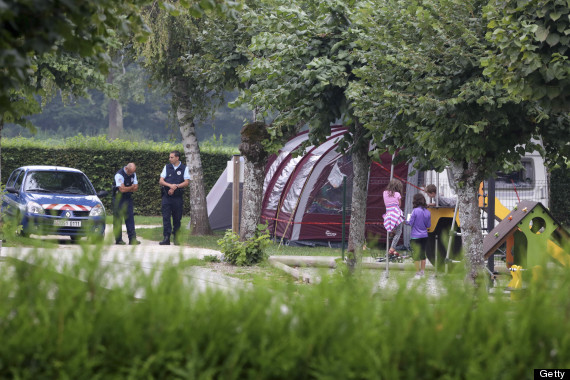 A gendarme stands by the caravan where the slain British family were holidaying in a camp site of Saint Jorioz, near Annecy
"Obviously the faster we can get to the bottom of what happened, the better."
Yesterday afternoon, three members of the same family were found with fatal head injuries after a gunman opened fire on them while they were travelling through the picturesque Haute-Savoie region near Lake Annecy in their BMW estate car.
The driver was named by French media as Saad al-Hilli, from Claygate, near Esher in Surrey. Neighbours said they believed he was travelling with his wife, Iqbal, and his mother-in-law, all of whom died during the massacre, alongside a French cyclist, found at the scene.
Mr al-Hilli's daughters, named locally as Zainab, seven, and Zeena, four, were also believed to have been in the vehicle when the gunman struck. Zainab was found violently beaten and is in a coma, fighting for her life.
Zeena was found alive underneath the bodies of her family about eight hours after the massacre.
She was found "terrorised, motionless, in the midst of the bodies" after fellow campers at a nearby site told officers the family had two children, public prosecutor Eric Maillaud said. He described the attack as an act of "gross savagery".
One theory is that shots could have been fired during a bungled armed robbery, with the dead cyclist - named as Sylvain Mollier - being a witness to the crime.
Addressing journalists at ParalympicsGB House in Westfield this afternoon, Mr Hollande offered his sympathy to those affected by the killings.
Speaking through an interpreter, he said: "I expressed my emotion earlier today to the British people in relation to the terrible deaths.
"Both the French and the British family have been impacted by this terrible event and we will do our utmost to find the perpetrators, to find the reasons behind that event.
"Our police are co-operating and everything that is found will be shared."
SEE ALSO

Was Killing Of British Family 'Car-Jacking' by Armed Bandits?